Unibet Poker

Unibet Poker is an independent poker room. It has one of the most astute management in all of online poker. A few years ago, Unibet Poker was part of the Microgaming Poker Network, but decided to leave it and start working on its own. At the same time, the priorities inside Unibet Poker were changed and the room became as loyal as possible to amateur players. This found expression in the cartoonish design and the ban of poker trackers. As a result, Unibet continues its work, and MPN closed in May 2020.

In addition to the almost complete lack of professional players, the poker room boasts a bonus of up to € 200 for new players, periodic rake races and lucrative MTT tournaments with small buy-ins.
Key Features
Soft pool of players, where there are practically no regular players;

Record low rake at micro stakes;

Bonus up to 200 € for beginners;

Many inexpensive MTTs with few members;

Poker software is completely prohibited;

There is no way to engage in selection of opponents.
Poker Room Review
Special offers
Registration Instructions
Player Reviews
Unibet Poker is a unique phenomenon in the modern poker! An independent poker room that faster that anyone else in the world catch new trends and completely changed the approach to doing business in the poker industry. At the end of 2013, it was decided to leave Unibet Poker from Microgaming Poker Network and start an independent path. Several controversial decisions were consistently adopted, among them:
Prohibition to use auxiliary poker software (including poker trackers);
Transition from the more convenient and practical Microgaming Poker Network software to its own cartoonish and colorful platform;
Transformation of Unibet Poker from a regular room in a large network into a special place for hobby players.

After 6 years, we can definitely say that Unibet's risky strategy has fully justified itself: the Kindred Group (the owners of the Unibet brand) annually reports on growing profits and the number of players at the tables, but the Microgaming Poker Network ceased to exist in May 2020.
Unibet Poker attracts interest due to its soft player's pool, unique graphics and regular rake races for cash players.
Traffic
In terms of the number of players, Unibet Poker is in the top 15 poker rooms, according to Pokerscout data. A good result for a small and independent structure. At peak times, around 1,300 players can be watched at the tables. Most of them are concentrated at the cash tables.
The most popular is No Limit Holdem. There are limits from NL4 to NL400. Unibet is a poker room aimed at European users, so the main currency here is the euro. We note the absence of the lowest NL2 limit, as well as the high NL1000 + limits. The approximate distribution of players by limits is as follows:
| | |
| --- | --- |
| Limit | Number of tables |
| NL4 | 20 |
| NL10 | 9 |
| NL25 | 8 |
| NL50 | 6 |
| NL100 | 7 |
| NL200 | 5 |
| NL400 | 3 |


The number of PLO players is inferior to NL Holdem, but still quite significant. The combination of the level of opponents and traffic at micro-limits will delight Omaha lovers altogether:
| | |
| --- | --- |
| Limit | Number of tables |
| NL4 | 20 |
| NL10 | 9 |
| NL25 | 8 |
| NL50 | 6 |
| NL100 | 7 |
| NL200 | 5 |
| NL400 | 3 |

Note that there are almost no 9-max tables on Unibet poker in both NL Holdem and Omaha.
Fast poker tables are called "Fast Holdem" here. The most popular limit is NL4, there are up to 100 connections at peak times.
The local variant of Spin&Go tournaments is designated "HexaPro". There are 8 limits available. The official Unibet website helpfully points out the exact value of the rake size of 6.853%.
The rest of the Sit & Go tournaments are not very popular. Most often, the main incentive to participate in them is special missions to receive bonuses within the framework of Unibet Poker promotions. An interesting feature is the unique Sit & Go for 5 players. Besides them, only HU are of any interest.
MTTs are also targeted at casual poker enthusiasts and look unattractive to professional tournament players. There are no really big tournament series or million dollar guarantees here. The biggest tournament prize pools barely reach € 100,000. The positive side of unimpressive guarantees is that there are very weak opponents and their small number. A good option for beginner MTT players.
Rake at Unibet Poker
The rake at Unibet Poker is the lowest of any poker room. At NL4 it is only 2%. Further, the picture changes upwards, but still remains very attractive. New tables are encouraged to start on Unibet - when playing in HU and 3-max, the rake cap is 2 times lower than at a full table. This is how the distribution of rake by limits looks like:
No Limit Holdem
| | | |
| --- | --- | --- |
| Limit | Rake in % | Cap |
| NL4 | 2% | 0,5€ |
| NL10 | 3,5% | 1€ |
| NL25 | 4,5% | 2€ |
| NL50 | 5,5% | 2€ |
| NL100 | 6% | 3€ |
| NL200 | 6% | 3€ |
| NL400 | 6% | 3€ |


More recently, the micro limit rake in Omaha has been changed:
| | | |
| --- | --- | --- |
| Limit | Rake in % | Cap |
| NL4 | 2% | 0,5€ |
| NL10 | 3% | 1,5€ |
| NL25 | 3% | 2,5€ |
The average rake in Sit & Go tournaments is 3-5%, and for MTT - about 10%.
Unibet Poker client and poker trackers
Even after leaving the Microgaming network and switching to its unique software, Unibet Poker completely stopped working any poker programs. No poker trackers, layouts, or other software are supported there anymore. It is the cornerstone of a new poker room policy and a shift in focus towards the entertainment of recreational players.
The emphasis on amateurs is also evident when examining the client's lobby.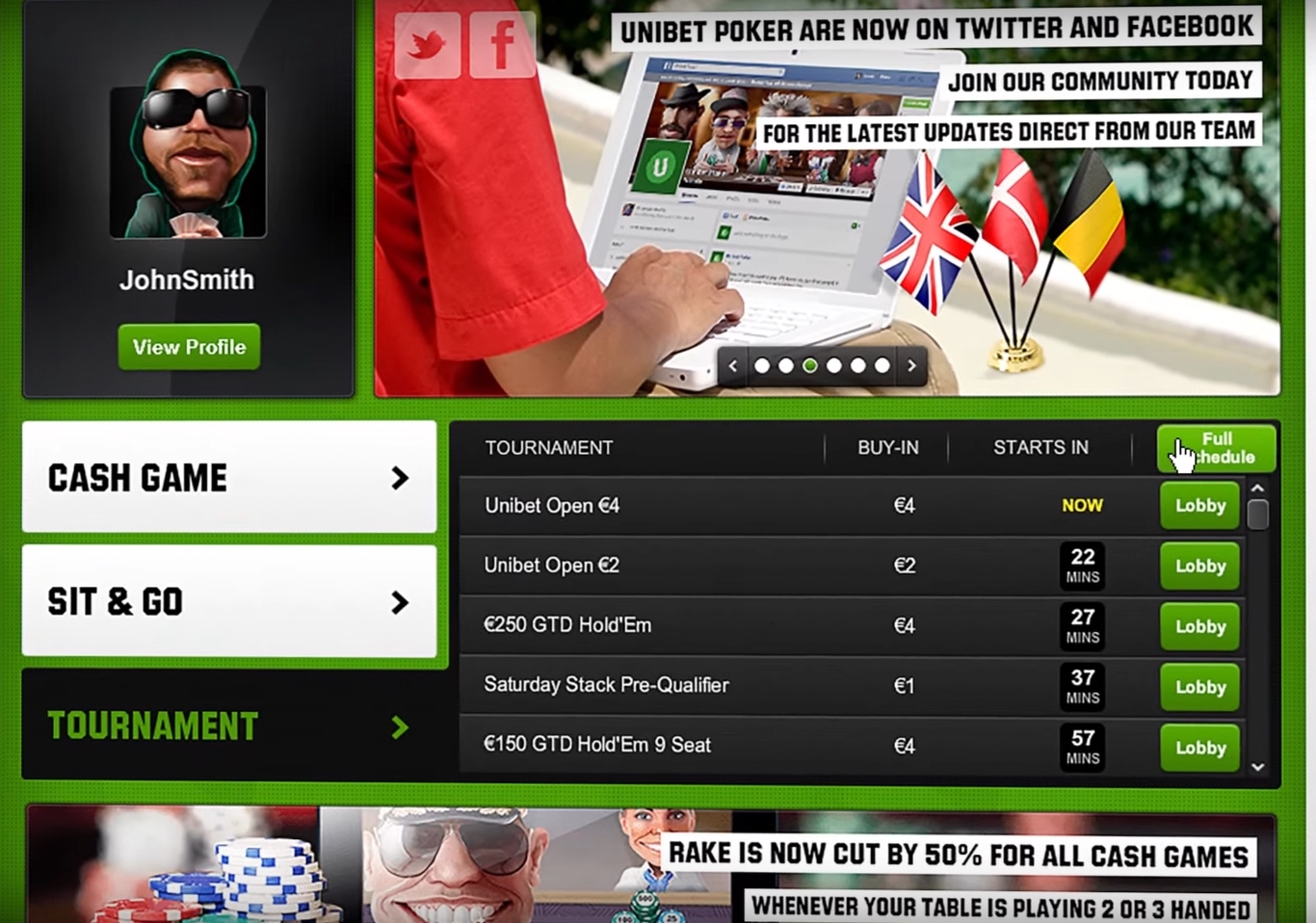 All elements are made in a bright, cartoon style. The number of tabs and switching between disciplines is minimized in order to speed up and simplify the selection process.
It is also impossible to engage in the selection of tables - you can only select the desired limit and type of poker - then you will be seated at the free seat at random.
You can choose a minimalistic design of tables and a 4-color deck. There are betting profiles, which will make it a little easier to play at multiple tables. There is a function of transferring stacks to the big blinds. Multi-tabling is limited to 6 tables.
Unibet Poker has a poker client for Windows and MacOS, as well as mobile apps for Android and iOS. It is also possible to play directly from the browser.
Unibet Poker promotions and bonuses
The features of the Unibet Poker bonus policy also reflect the basic principles of the room: there is no big first deposit bonus, no large MTT series with tens of millions of prize money or regular rake races with hundreds of thousands of euros in prize money. All stocks here are rather modest and are not intended to amaze the imagination with huge numbers. Here is a list of the main suggestions:
1. 100% welcome bonus for new players up to 200 €. You do not need to enter any codes to get it. The player has exactly 60 days to clear the bonus.
2. Win up to 1,000 buy-ins in HexaPro tournaments. The most expensive tournaments in this format have a buy-in of € 100, therefore the maximum prize is € 100,000.
3. Daily €37,000 HexaPro Rake Race.

There are 3 leaderboards, depending on the size of the buy-ins.
4. MTT Player of the Year - reward: tickets to expensive tournaments and the avatar of the best player of the year.

There is a division into low and high levels depending on the buy-in level.
5. 200 € for inviting friends to Unibet Poker. 50 € for the first, 50 € for the second, 100 € for the third. Your friends must register using your link and fulfill a few prerequisites, such as registration and further deposit.
Loyalty program and rakeback
In the summer of 2021, the Unibet loyalty program was completely overhauled: no missions with rewards are now gone. Instead, a transparent system was introduced, linking the amount of rake played and the size of the rakeback:
consists of 7 levels, divided into several sublevels;

loyalty points are credited for each cent of the rake;

upon reaching level 2, a coefficient is added to the points gained, thanks to which more points are accumulated;

from level 4, players can receive wagering bonuses; statuses are fixed for a quarter, then they are reset to zero. Except for players of level 6 and above - the privileged conditions for them remain for the next 3 months.
Unibet Poker claims that the new loyalty program gives from 8% to 51% rakeback.
Deposits and Cashouts
You can fund your Unibet Poker account using the following payment methods:
PayPal;
Maestro;
BankTransfer;
MasterCard;
Bank Transfer;
Skrill;
Visa;
PaysafeCard;
Visa Electron;
NETELLER;
WebMoney;
ecoPayz.
The main ways to withdraw funds:
Visa;
MasterCard;
NETELLER;
Skrill;
ecoPayz;
Trustly;
Bank Transfer.
Deposit and cashout methods may vary depending on your country of residence. Funding is instant, but in some cases you will have to pay a commission from 2.5% to 5%. Additional costs may vary depending on the specific payment method.
Deposits are processed instantly, but cashouts can take up to 5 business days. Skrill, NETELLER, ecoPayz have the highest transaction speed.
Conclusions. Pros and cons.
Unibet Poker is a unique independent poker room, absolutely unlike any other online poker representative. Everything here is aimed at entertaining poker lovers: client design, tabs, bonus policy, game selection, promotions. Therefore, this is where the highest concentration of hobby players is.
If you are willing to put up with the inconvenience and hurdles that are designed to squeeze out professional players for the sake of a high win rate, then Unibet Poker is for you.
Pros:
The best ratio of recreational players to regulars;
The lowest rake in online poker;
A good first deposit bonus up to 200 €;
Low competition in MTT tournaments.
Cons:
You cannot use poker software;
No table selection;
There are no cryptocurrencies as a method of deposits/cashouts.
Special offers: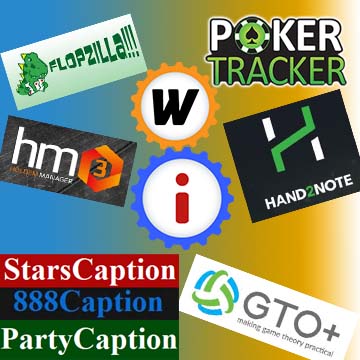 Free software for our players
All players who have registered at Unibet Poker via our link are eligible to receive any software from our store for free. Contact us for more details.
Registration Instructions
FAQ:
Is there datamining handhistory for Unibet Poker?
No, there isn't mining for Unibet Poker.
What is the bonus code to receive your first deposit bonus at BetKings?
Make your first deposit of 10 € or more. The welcome bonus is awarded in the amount of 100% of the deposit amount up to 200 €. The bonus is credited automatically - no codes are required to enter. You will have 60 days to clear it. The money will be credited to your account in installments.
What is Unibet Poker technical support email address?
Unibet Poker Technical Support Email: info@unibetsupport.com
Is it allowed to use software (Holdem Manager 2-3, Poker Tracker 4, Hand2Note, etc.) on Unibet Poker?
The use of poker trackers is prohibited.
Players from which countries can play Unibet Poker?
Prohibited countries:
Afghanistan, Angola, Bulgaria, Bahamas, Botswana, China, Colombia, Costa Rica, Czech Republic, Algeria, Ecuador, Egypt, Eritrea, Spain, Ethiopia, Faroe Islands, France, French Guiana, Ghana, Greenland, Guadeloupe, Greece, Guam, Guinea-Bissau, Hong Kong, Haiti, Iraq, Iran, Jordan, Democratic People's Republic of Korea, Kuwait, Sri Lanka, Libya, Saint Martin (French part), Myanmar, Martinique, Mexico, Philippines, Pakistan, Puerto Rico, Portugal, Réunion, Russia, Saudi Arabia, Sudan, Singapore, Slovenia, Somalia, South Sudan, Syrian Arab Republic, Turkmenistan, Tunisia, Turkey, Trinidad and Tobago, United States Minor Outlying Islands, United States, Uzbekistan, Venezuela, US Virgin Islands, Yemen, Zimbabwe, American Samoa, Congo, Cambodia, Panama, Samoa, Brazil, Switzerland, Mongolia
Number of players in the peak:
1300
Docs
ID, address confirmation
Contact:
e-mail - info@unibetsupport.com
Mail:
info@unibetsupport.com