Titan Poker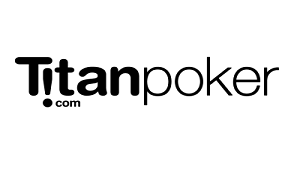 Titan Poker has been one of the leading poker rooms of the iPoker Network for nearly two decades. The iPoker network is one of the top 10 online poker players in terms of the number of players. In recent years, traffic has been gradually increasing.

The poker room offers a good welcome bonus up to 1500 €, unique Beginners races and Gladiators race promotions. Deserves a mention and rakeback up to 30%.

Poker trackers and iPoker Tools are allowed on Titan Poker.
Key Features
unique promotions Bad Beat Bonus,

Gladiators Race

and

Beginners Races

;

first deposit bonus of 200% up to 1,500€;

good rakeback;

additional benefits in line with local program loyalty;

poker trackers are allowed;

our players get iPoker Tools and datamining for

Titan Poker ​for free.
Poker Room Review
Registration Instructions
Player Reviews
Titan Poker is a poker room from the iPoker Network.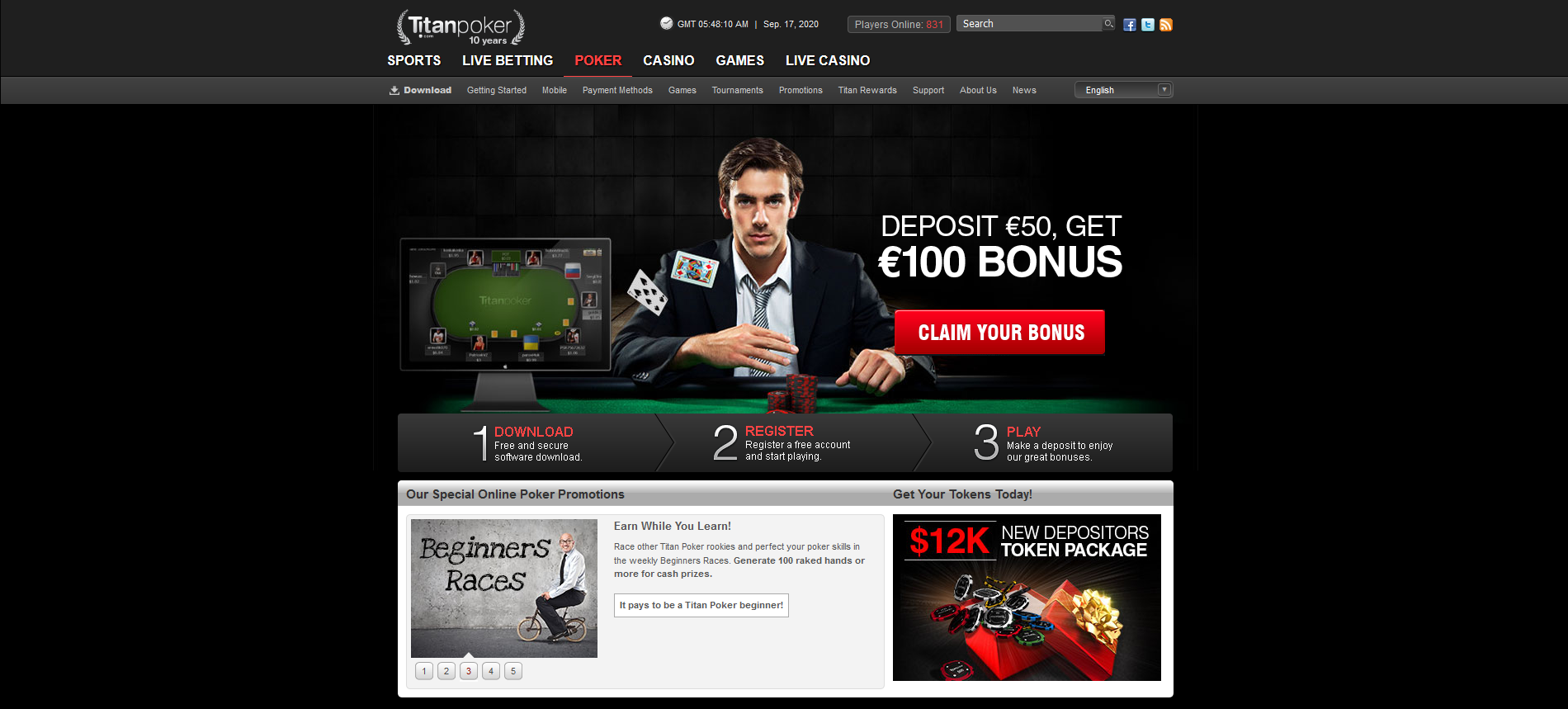 Its competitive advantages can be summed up in several arguments:
Great first deposit bonus of 200% up to 1,500 €;
Unique promotions that are not available in other rooms of the network;
Rakeback up to 40%;
Soft pool of players coming from online casinos and sports betting.
Titan Poker was launched back in 2005 and still remains one of the largest poker rooms at the iPoker Network. Until 2020, the network was in limbo. This was reflected in rather lackluster promotions and a gradual deterioration in conditions for players.
However, since the transition of most of the poker rooms of the Microgaming network to the iPoker Network, the situation has begun to change for the better. Now the management has ambitious plans to make the network the largest in the world.
Titan Poker traffic
Titan Poker and the rest of the iPoker network have common traffic. At peak times, up to 4,000 players can be found at the tables. The iPoker Network is in top 10 online poker in terms of the number of players. Main currencies are euros and pounds sterling.
The most popular discipline is No Limit Holdem. The lobby contains limits from NL2 to NL1000. You can play poker at the tables HU, 6-max, 9-max.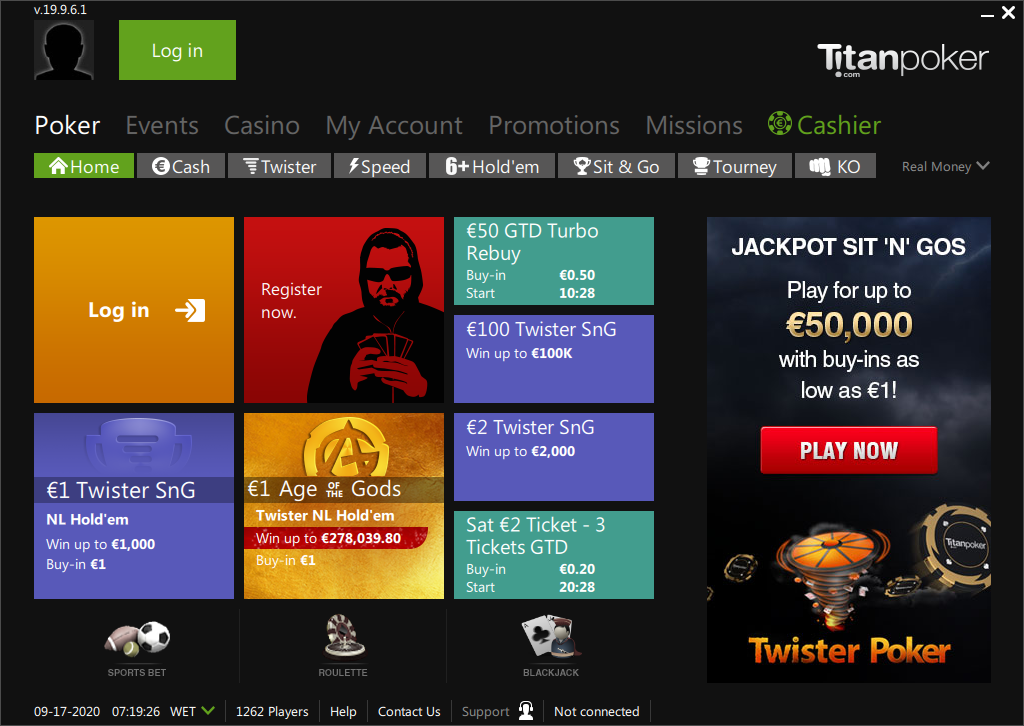 The most popular of them are shorthanded tables, but full ring tables are not interesting for players.
PLO cannot boast of the same popularity, but the tables are still filling up quite actively. The iPoker Network offers 4 Omaha options at once:
PLO;
PLO Hi/Low;
Fixed Limit Omaha;
Fixed Limit Omaha Hi/Low.
Titan Poker also has fast poker. It is placed in a separate "Speed ​​Poker" tab. Available to play 2 limits from NL5 to NL10. At peak times, up to 75 connections.
The short deck poker is referred to here as "6 + Holdem". The set of limits is the same as for fast poker, except for NL5. Instead, here is NL4.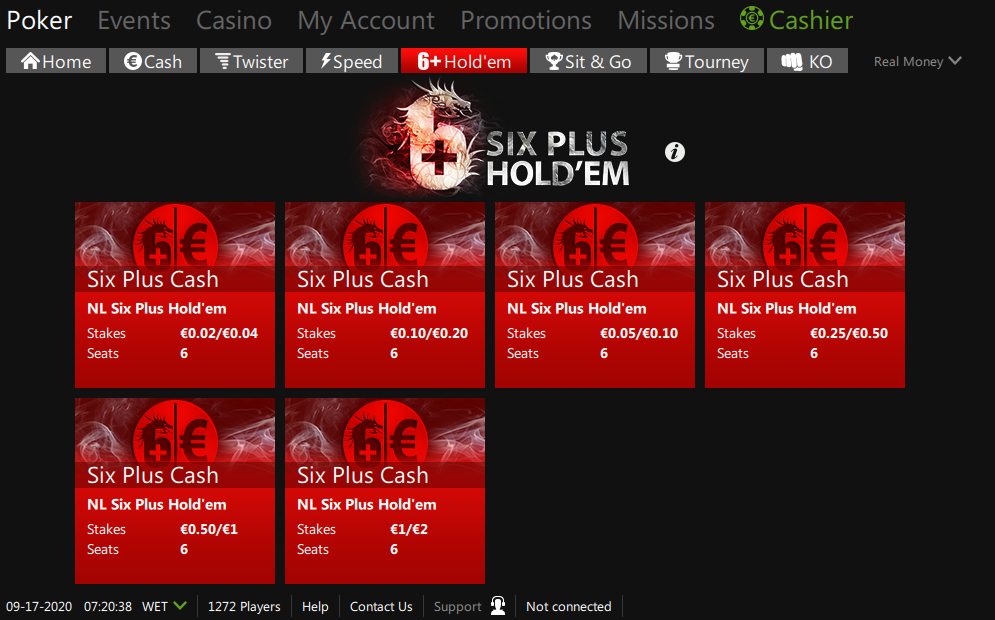 Spin & Go tournaments on the iPoker network are designated "Twister". There are 8 limits for the game:
0,5€;
1€;
2€;
5€;
10€;
20€;
50€;
100€.
The multipliers and the probability of their occurrence are presented in the table below:
| Multiplier | Probability |
| --- | --- |
| 1000 | 2 in 100 000 games |
| 50 | 50 in 100 000 games |
| 8 | 4000 in 100 000 games |
| 5 | 9 544 in 100 000 games |
| 3 | 22 002 in 100 000 games |
| 2 | 64 412 in 100 000 games |
The smooth growth of buy-ins at the lower limits attracts. Together with good rakeback, this is an excellent foundation for building a bankroll for Spin & Go players.
The rest of the Sit & Go tournaments are not very popular. Of these, the most in demand are HU SNG. Available buy-ins from 0.1 € to 160 €.
The tournament schedule is best suited for low and mid stakes players. MTT with huge prize money at Titan Poker is not to be expected. However, the level of competition will be significantly lower than at PokerStars or Partypoker. The biggest tournament on the iPoker Network is the Main Sunday Sweat with a € 30,000 guarantee and a € 100 buy-in.
Recently, a separate Progressive KO tournament tab has been added to the Titan Poker client lobby.
Rake
The rake at Titan Poker is 5%. No commission is charged from the bank if the hand is over preflop and no community cards are laid out on the table. The distribution of rake in the iPoker Network is based on its unique "Source Based Rake" system. Its main feature is that regular players pay more rake and receive less rakeback than recreational amateurs. You can find more detailed information about the rake and its cap below:
NL and PL games
Pot Limit and No Limit – from € 0,01 / € 0,02 to € 0,02 / € 0,05
| | | |
| --- | --- | --- |
| Number of players | Rake in the bank | Cap |
| 2-10 | € 0,01 for every € 0.15 in the bank | € 0,50 |
Pot Limit and No Limit - € 0,05 / € 0,10
| | | |
| --- | --- | --- |
| Number of players | Rake in the bank | Cap |
| 2 | € 0,01 for every € 0.15 in the bank | € 1,00 |
| 3-10 | € 0,01 for every € 0.15 in the bank | € 2,00 |
Pot Limit and No Limit - € 0,10 / € 0,20
| | | |
| --- | --- | --- |
| Number of players | Rake in the bank | Cap |
| 2 | € 0,01 for every € 0.20 in the bank | € 1,00 |
| 3-10 | € 0,01 for every € 0.20 in the bank | € 2,00 |
Pot Limit and No Limit - € 0,25 / € 0,50
| | | |
| --- | --- | --- |
| Number of players | Rake in the bank | Cap |
| 2 | € 0,01 for every € 0.20 in the bank | € 1,00 |
| 3-10 | € 0,01 for every € 0.20 in the bank | € 3,00 |
Pot Limit and No Limit – from € 0,50 / € 1,00 to € 5,00 / € 10,00
| | | |
| --- | --- | --- |
| Number of players | Rake in the bank | Cap |
| 2 | € 0,01 for every € 0.20 in the bank | € 1,00 |
| 3-10 | € 0,01 for every € 0.20 in the bank | € 4.00 |


Poker trackers and Titan Poker client
One of the biggest advantages of Titan Poker and the entire iPoker Network is that you can use poker trackers without any fear. Moreover, you do not need any additional converters or other software. And we provide to our players iPoker Tools and Titan Poker datamining absolutely free.
Several years ago, the poker platform Titan Poker and other poker rooms on the network caused serious criticism and was seriously inferior to competitors. Fortunately, those times are over.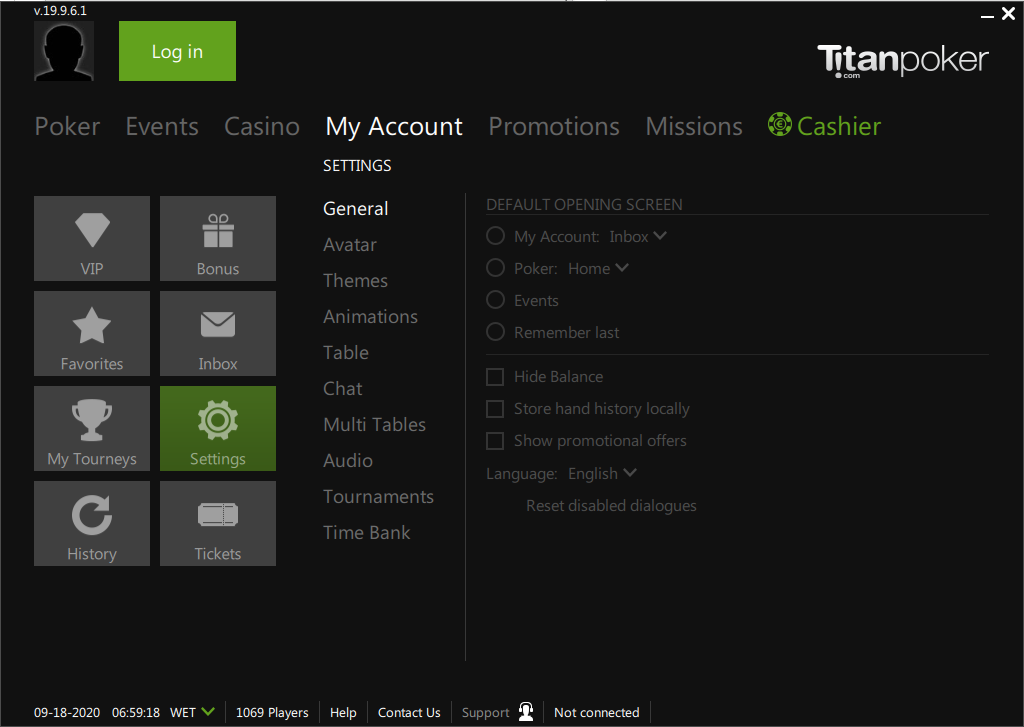 Two years ago, the entire iPoker network switched to a new client and now it has become much more comfortable to play. The software meets all modern requirements of the poker industry.
You can choose the appearance of the table, background, cards, cardbacks. For the convenience of the game, the following functions are provided:
Favorite place;
Profiles of bets on preflop and postflop;
Transfer stacks to big blinds.
For multitablers, it is possible to turn off all distractions like animations, other player avatars, chat, and sound effects.
Titan Poker also has a mobile app for iOS and Android.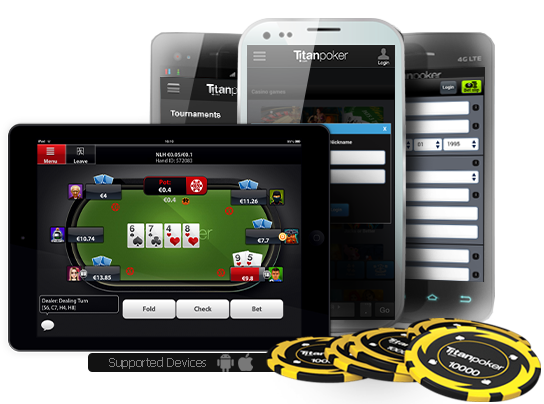 You can even play up to 4 tables simultaneously using your smartphone.
Promotions and bonuses
The most attractive offer from Titan Poker is the first deposit bonus. Let's start from it:
1. 200% welcome bonus up to € 1,500. Deposits in other currencies have their own size limits



The bonus is activated automatically - you do not need to enter any promo codes. You will have 2 months to clear the bonus. For every 400 points, you will be credited with 5 €. Additionally, you will be given tickets to tournaments with a total prize pool of $ 12,000.
2. Beginners race. You will be able to take part in the promotion for 90 days from the moment you create your account.

To receive rewards you need to play at the beginner tables. In fact, this proposal is a leaderboard exclusively for beginner players. The race is held weekly, the first prize is $ 40. You can get the minimum prize after only 100 hands played during the day.
3. 500 $ for Refer a friend. For every friend you invite to Titan Poker you can receive up to $ 500. The bonus is issued in parts, depending on the number of points that your friend will score.
4. $ 6,000 rake race called "Gladiators Race".

It is only available to players with the highest status in the Titan Poker loyalty program.
5. Bad Beat Bonus. If you lose with four of kings or better at the cash table, you will be entitled to a $ 250 bonus. Tournament losses are not relevant for this promotion. But to receive it, you need to write to support@titanpoker.com within 48 hours after the bad beat.
Titan Poker loyalty program
Titan Poker's loyalty program is called the "Titan VIP Club" and offers up to 30% rakeback. There are 6 levels in total: the higher the level, the higher the score multiplier.
This is what the entire loyalty program looks like: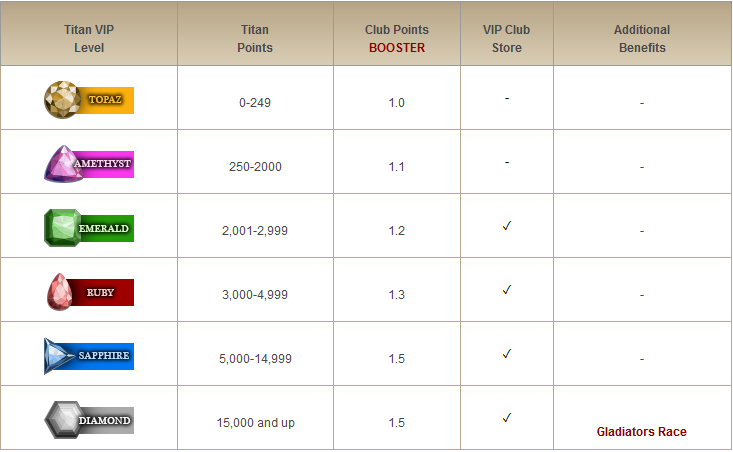 Different points are awarded depending on the your currency:



To maximize the benefits, it makes sense to accumulate points and exchange for more impressive amounts: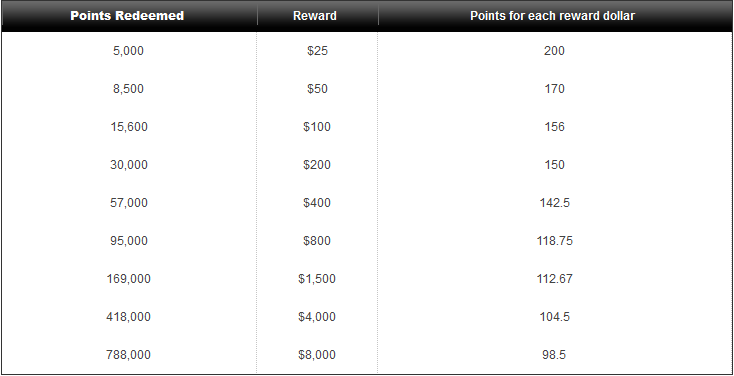 Deposits and Cashouts
Titan Poker's deposit methods depend on your country of residence. In its most general form, it looks like this:
Visa;
MasterCard;
Maestro;
Visa Electron;
Diners Club International;
Laser;
PayPal;
Switch;
Entropay;
QIWI;
WebMoney;
Skrill;
NETELLER;
ecoPayz;
PaysafeCard;
Bank Transfer;
iDebit.
All of the presented deposit methods are instant, except bank transfer. If you make a deposit using a transfer, then the transaction will take from 1 to 5 business days. The most convenient and versatile ways to deposit and withdraw money are e-wallets from Skrill, NETELLER, ecoPayz.
Conclusions. Pros and cons.
The most compelling argument for playing at Titan Poker is the 200% first deposit bonus up to € 1,500. This is one of the more attractive online poker welcome bonuses. The rakeback up to 40% also attracts attention. But, in fact, it can be even higher due to the additional benefits of the exclusive Gladiators Race. It is available only for the highest VIP status holders.
Pros:
First deposit bonus of 200% up to 1,500 €;
Rakeback up to 30%;
BadBeat Bonus and Beginners Race are separate Titan Poker promotions;
There are no such strict restrictions on multi-tabling as on PokerStars \ 888Poker;
Free datamining for our players;
iPoker Tools as a gift for our players.
Cons
There are no major tournament series;
Difficult to clear the first deposit bonus;
In terms of the number of players, the iPoker network is quite far behind the leading rooms.
Registration Instructions
FAQ:
Is there datamining handhistory for Titan Poker?
Yes. Players registered from us can receive datamining for free. Contact our support for details. In addition, you can
buy handhistory for Titan Poker
in our shop.
Is it allowed to use software (Holdem Manager 2-3, PokerTracker 4, Hand2Note, etc.) on Titan Poker?
Yes, all these programs, as well as the others, which do not give direct instructions for action at the playing tables, are allowed at Titan Poker
Players from which countries can play Titan Poker?
Prohibited countries:
Afghanistan, Aland Islands, Antigua And Barbuda, Australia, Bahamas, Barbados, Belgium, Belize, Bulgaria, China, Columbia, Cuba, Cyprus, Czech Republic, Denmark And Its Territories, Dominica, Estonia, Faroe Islands, France And Its Territories, French Guiana, French Polynesia, French Southern Territories, Greenland, Grenada, Guadeloupe, Guyana, Haiti, Hong Kong, Hungary, Iran, Iraq, Ireland, Israel, Italy, Jamaica, Kahnawake, Libya, Macau, Martinique, Mayotte, Montserrat, Netherlands, Netherlands Antilles, New Caledonia, Poland, Portugal, Reunion, Singapore, Republic Of Serbia, Romania, Slovakia, Slovenia, Spain, Sudan, Syria, St. Kitts And Nevis, St. Lucia, St. Pierre And Miquelon, St. Vincent, Suriname, Trinidad And Tobago, The Philippines, Turkey, U.S. Virgin Islands, United Kingdom, Ukraine, Usa And Its Territories, Wallis Futuna.
How to verify account at Titan Poker?
To verify, just send to Titan Poker support your ID|driving license photos and a bank statement or utility bills with address confirmation
What is the bonus code to receive your first deposit bonus at Titan Poker?
To activate a bonus on your first deposit, a code is not required. Just make a deposit and the bonus will be applied automatically.
Number of players in the peak:
4000
Docs
ID, address confirmation
Contact:
email - support@titanpoker.com, email for verification docs@titanpoker.com
Mail:
support@titanpoker.com