Red Star Poker

Red Star Poker is a poker room of the iPoker Network. Until May 2020, it was an integral part Microgaming Poker Network. This poker room is aimed at the Russian-speaking audience represented by citizens of Russia, Ukraine, Belarus. In terms of the number of players, the iPoker Network is confidently in the top 10 online poker.
One of the most pleasant bonuses for users from changing the network is the first deposit bonus of 200% up to 2000 €. Moreover, it can be received not only by those people who are really registering for the first time, but also by the owners of existing accounts. Other attractive features of Red Star Poker are the monthly lottery and good rakeback.
Key Features
The main currency for the game is the euro, there are also pound tables;

The biggest first deposit bonus among all iPoker Network rooms

;

The first deposit bonus is also available to those players who have already received this bonus when

Red Star Poker

were part of the MPN;

Reload Bonuses are available every month;

Allowed to use trackers and iPoker Tools;

There is poker with a short deck - Six Plus Holdem;

The number of players in MTT is not too large - excellent conditions for beginner MTT players;

Spin&Go tournaments available.

Here they are called "Twister".

iPoker Tools and datamining for free for our players.
Poker Room Review
Special offers
Registration Instructions
Player Reviews
Red Star Poker (Red Star Poker) is a room with a long history and Russian-speaking roots. Over the years of its existence, he managed to change several registrations. Starting on the Cake network, which was later renamed Revolution, then moved to MPN, and in May 2020, the room settled in the iPoker network. The main advantage of this room is loyalty to Russian-speaking players. Red Star Poker is the only iPoker skin that officially accepts players from Ukraine, Russia and Belarus.
Traffic
Today, at the iPoker network, the average traffic value is in the range from 1100 to 1300 cash players per day.
After the integration of nine skins of the closed MPN network, which doubled the number of poker rooms in the iPoker Network, the level of traffic will receive a quantitative and qualitative increase. Due to what? Switching to the iPoker Betsson Group network will allow you to attract weak gamblers of casinos and sports betting from these storefronts.
In addition, the network sets ambitious goals, and seeks to remove the GG Network, which is now the largest poker network, from the poker throne. In general, such intentions are not empty words. iPoker is now strong, motivated and ready to fight for the highest places in terms of cash traffic. Let's look closely on Red Star Poker.
NLH. Here is the full range of limits from NL2 to NL1k. The main traffic is focused on micro-limits, where over three dozen tables are available. On the limits from NL50 to NL200 in the evening you can find about 25-30 tables. At levels from NL200 to NL1k, there are also over a dozen tables.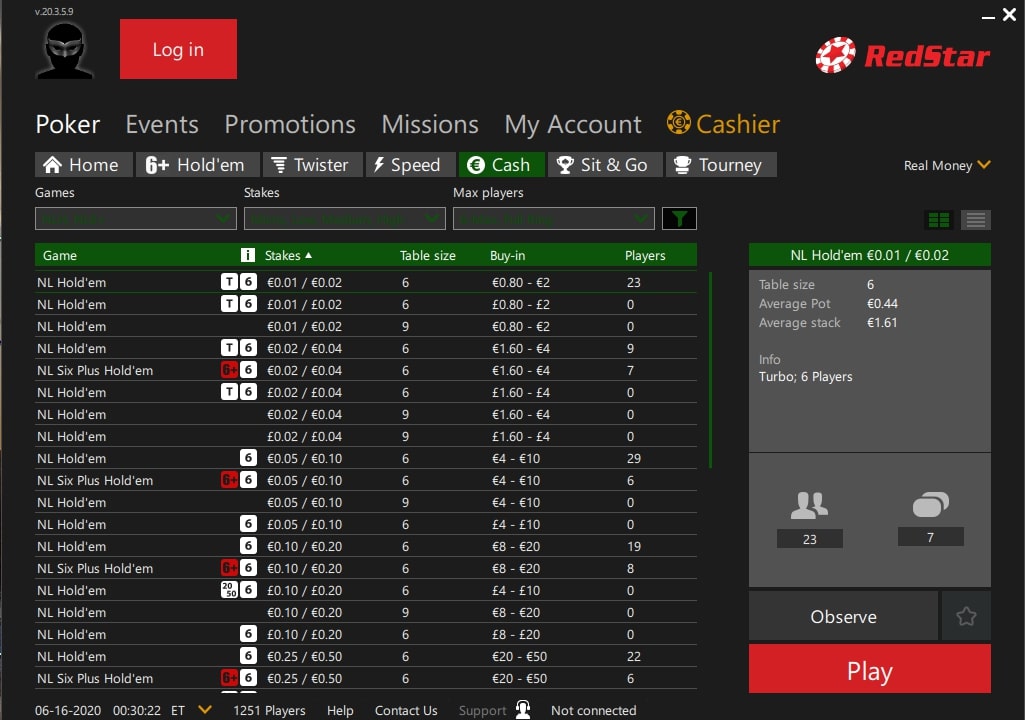 PLO. Omaha is slightly behind Hold'em, but not critical. The limits with the highest activity are PLO2, PLO5 and PLO10. In general, it is worth noting the uniform loading by limits in Omaha on iPoker. The amount of action is 10-15% lower than in Hold'em.
Heads Up. One-on-one game is available on almost the entire range of cash limits, both in Hold'em and in Omaha.
Speed ​​Poker. The iPoker network has its own version of fast poker, which is very popular among players. The average load on the tables during the day ranges from 50 to 100 users. Available limits: NL5, NL10.
Six Plus Holdem. The popular short deck format on the iPoker network is represented by the following limits: NL4, NL10, NL20, NL50 and NL100. The game is almost around the clock and at all levels.
Twister. It should be noted that the analog of Spin&Go from iPoker does not adhere to modern trends in accelerating hyper-turbo and so far offers a classic structure: levels of three minutes, a starting stack of 25 BB. The average rake is about 7%. Below is a table of the frequency of occurrence of various multipliers.
| Multiplier | Probability |
| --- | --- |
| 1000 | 2 in 100 000 games |
| 50 | 50 in 100 000 games |
| 8 | 4000 in 100 000 games |
| 5 | 9 544 in 100 000 games |
| 3 | 22 002 in 100 000 games |
| 2 | 64 412 in 100 000 games |
By default, the maximum winnings in Twister are € 100,000, unless special promotions take place. The buy-ins are as follows: € 0.50, € 1, € 2, € 5, € 10, € 20, € 50, € 100.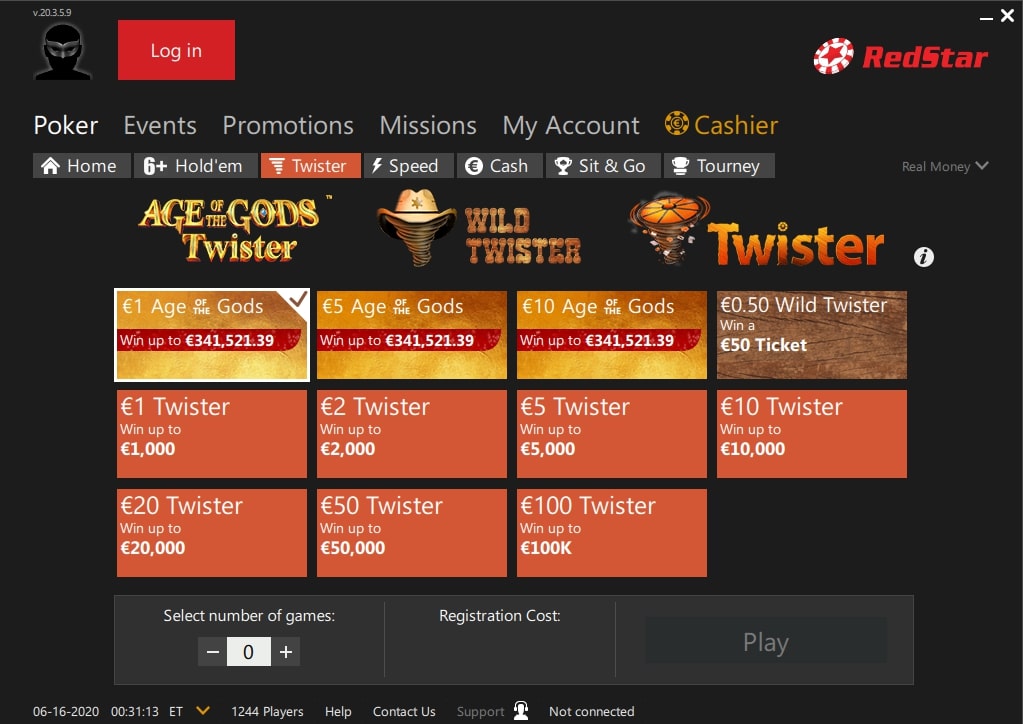 Sit&Go. SnG formats are widely represented in the lobby. Here and HU, and MTSNG and even the long-forgotten DoN. The minimum buy-in is only € 0.20, and the maximum is € 100. There is traffic, but not too much. We recommend considering Red Star Poker as an additional poker room for Sit&Go.
MTT. With multi-table tournaments about the same story. There are some good events, but if you are used to the great number of opponents and thousands of guarantees, then it will be cramped for you. However, this does not negate the fact that tournaments in Red Star and iPoker networks can be attractive for players with low ABI.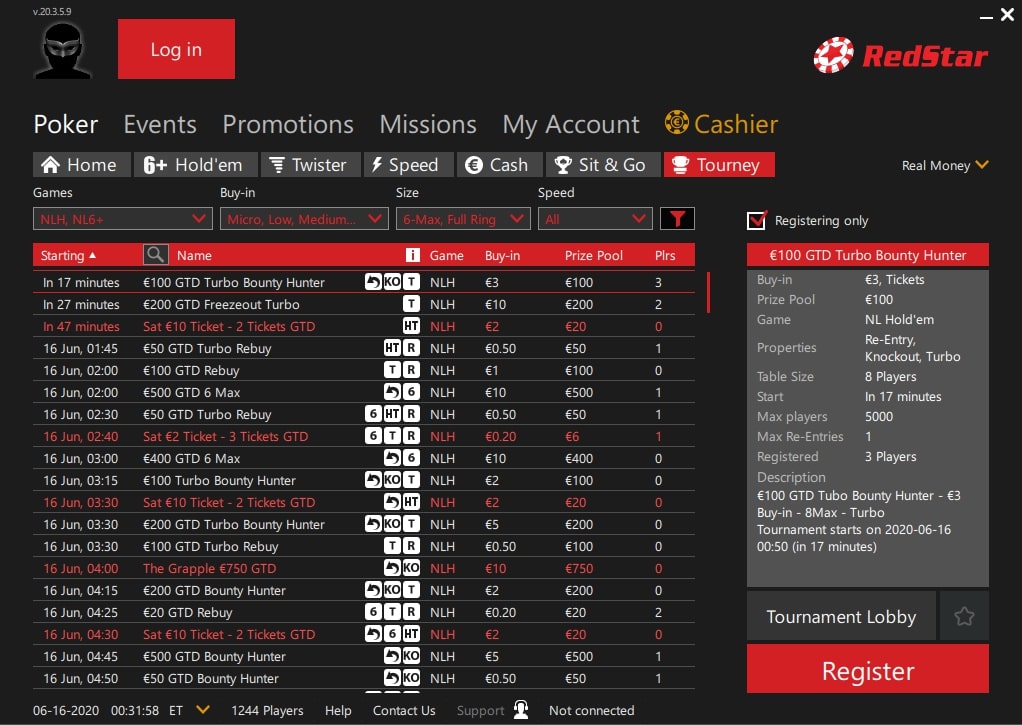 Rake
On January 1, 2015, the iPoker network switched to its own rake counting system called Source Based Rake (SBR). The calculation methodology is the same here, as in the now deceased MPN network: the calculation is based on the success of the player and the storefront that he represents.
Ultimately, the essence of the system is to make the rake uneven in the hand, where a regular and a fish meet. The rake is credited to the latter at the expense of the first, that is, in this way, the network is trying to help weak players reduce the rake and get more rakeback.
Rake at Red Star Poker, as well as throughout the network, is not levied on hands that did not see the flop. The average rake, as a rule, does not exceed 5%.
NL and PL games
Pot Limit and No Limit – from € 0,01 / € 0,02 to € 0,02 / € 0,05
| | | |
| --- | --- | --- |
| Number of players | Rake in the bank | Cap |
| 2-10 | € 0,01 for every € 0.15 in the bank | € 0,50 |
Pot Limit and No Limit - € 0,05 / € 0,10
| | | |
| --- | --- | --- |
| Number of players | Rake in the bank | Cap |
| 2 | € 0,01 for every € 0.15 in the bank | € 1,00 |
| 3-10 | € 0,01 for every € 0.15 in the bank | € 2,00 |
Pot Limit and No Limit - € 0,10 / € 0,20
| | | |
| --- | --- | --- |
| Number of players | Rake in the bank | Cap |
| 2 | € 0,01 for every € 0.20 in the bank | € 1,00 |
| 3-10 | € 0,01 for every € 0.20 in the bank | € 2,00 |
Pot Limit and No Limit - € 0,25 / € 0,50
| | | |
| --- | --- | --- |
| Number of players | Rake in the bank | Cap |
| 2 | € 0,01 for every € 0.20 in the bank | € 1,00 |
| 3-10 | € 0,01 for every € 0.20 in the bank | € 3,00 |
Pot Limit and No Limit – from € 0,50 / € 1,00 to € 5,00 / € 10,00
| | | |
| --- | --- | --- |
| Number of players | Rake in the bank | Cap |
| 2 | € 0,01 for every € 0.20 in the bank | € 1,00 |
| 3-10 | € 0,01 for every € 0.20 in the bank | € 4.00 |
Software and support for trackers
The software of the iPoker network, and now Red Star Poker, meets all the modern requirements of the online poker industry. Stylish and fast lobby, with easy navigation on the limits and tables, a minimalist style of table design allows you not to be distracted by trifles, but focus on the game.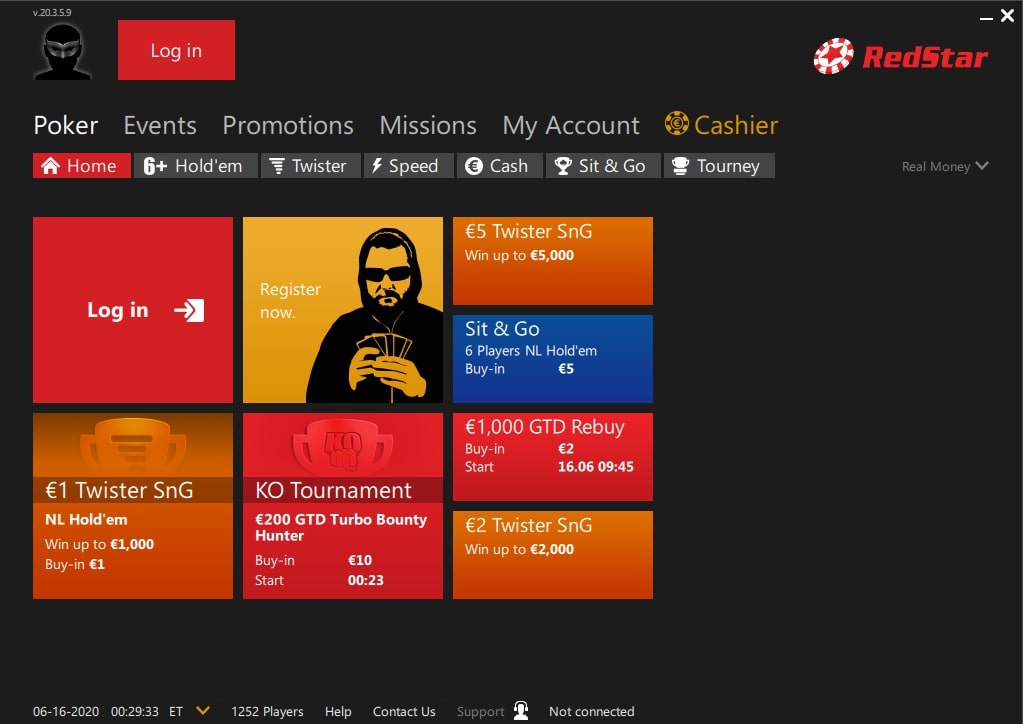 At the same time, in the lobby you will find a lot of settings: from a four-color deck to chat settings, animations and sound effects. However, this is not surprising, because the software developer is the world-famous company Playtech, which owns the Ipoker network.
An important advantage of the iPoker Network software is full support for tracking programs. You can easily use Holdem Manager 3, Hand2Note or Poker Tracker 4 during the game at Red Star Poker. An analogue of StarsCaption - iPoker Tools also works here. And this, not to mention the presence of a variety of all kinds of moddings and layouts for iPoker software.
To make playing on the iPoker network comfortable, we provide our players with iPoker Tools and datamining for free.
You can play Red Star Poker either directly in the browser or by downloading the application for Windows or Android. There is a separate application for Android mobile devices, but only a browser version is available for iOS smartphones and tablets.
Bonuses and promotions
In honor of the Red Star transition from MPN to iPoker, we advise new and old players to pay attention to the following bonuses:
First deposit bonus of 200% up to $2000. The bonus is redeemed in parts of $2 for every 200 SP points, which is approximately equivalent to 10% RB. The wagering time is 60 days.
In addition, players who register with us at the Red Star poker room with the RSP promotional code can receive up to 35% of gross rakeback. For more information, please contact our support.
In total, during the period of wagering for the first deposit, the rakeback will be 50%, and after wagering this bonus, taking into account the monthly reload of bonuses, it will be stable 35%.
Players can also take part in the weekly Twister Races race or try their luck in the Lottery promotion.
VIP program
The loyalty system at Red Star Poker is quite simple. For each € 1 of rake generated, the player is awarded a Status Point, which he can later use to exchange for bonuses or real money. The program itself consists of two levels: Red and Star.
At the Red level, players exchange their points at the rate of 50 SP for € 1, which gives up to about 20% rakeback. This level is permanent, and you needn't worry about its monthly confirmation.
The second level of Star is more advanced. Here, players can already exchange SP points at the rate of 29 SP for € 1, which gives about 35% rakeback. To get this level, the player needs to generate 5000 SP. This status is monthly, therefore it must be confirmed every month.
Deposits and cashouts
Red Star Poker supports a wide range of deposit and cashout methods. Here are the classic VISA/MasterCard cards, and the popular electronic wallets Skrill, Neteller, Yandex.Money, ecoPayz, WebMoney, QIWI. The room also works with major cryptocurrencies (BTC, LTC, ETH). In general, if your account is verified and there are no problems, payments to popular wallets are displayed maximum within 24 hours, but often almost instantly.
Conclusions. Pros and cons.
Well, let's summarize, who should choose Red Star Poker and what is interesting about the room?
Pros:
Reliable room with a long history.
The updated iPoker network at the initial stage is a good place to grind for a good percentage of rakeback.
The site is fully Russified, support speaks Russian.
The presence of rakeback and good bonus offers from the room.
Dense traffic at all limits, including the highest.
You can use poker trackers and you don't need VPN.

iPoker Tools and datamining are free for our players.

The only room in the network that absolutely legally accepts Ukrainians and players from the post-Soviet space.
Cons:
The pool of players at iPoker is not the easiest.
A sufficiently high rake, especially at micro and low limits.
Special offers: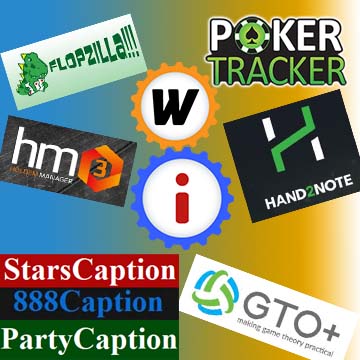 Free software for our players
All players who have registered at RedStar Poker via our link are eligible to receive any software from our store for free. Contact us for more details.
Registration Instructions
FAQ:
Is there datamining handhistory for Red Star Poker?
Is it allowed to use software (Holdem Manager 2-3, Poker Tracker 4, Hand2Note, etc.) on Red Star Poker?
Yes, all these programs, as well as the others, which do not give direct instructions for action at the playing tables, are allowed at Red Star Poker
Players from which countries can play Red Star Poker?
Prohibited countries:
USA, UK, France, Cyprus, Australia, Netherlands, Aruba, Bonaire, Sint Eustatius and Saba, Sint Maarten, Curacao, Hong Kong, Sweden
How to verify account at Red Star Poker?
To verify, just send to Red Star Poker support your ID|driving license photos and a bank statement or utility bills with address confirmation
What is the bonus code to receive your first deposit bonus at Red Star Poker?
To activate a 100% bonus on your first deposit, a code is not required. Just make a deposit and the bonus will be applied automatically.
Number of players in the peak:
1650
Docs
ID, address confirmation
Contact:
support@redstarpoker.eu, online-chat, call back request
Mail:
support@redstarpoker.eu