Ignition Poker
Ignition Poker is the leading poker room of the PaiWangLuo (Bodog) network. One of the most interesting features of this network can be called the fact that players from the United States are still allowed to play here.

Another characteristic of the game at PaiWangLuo (Bodog) is that all tables of the network are completely anonymous. When you sit down at the table, you see only the number of your opponent and his stack. This makes life difficult for professional players. And that is why there are not too many of them on Ignition Poker.

Poker trackers are not prohibited at Ignition Poker. However, for them to work correctly, you will need additional programs: Ignition Card Catcher and Ignition Converter.
Key Features
players from the United States are allowed access;

cryptocurrencies are allowed as a deposit and cashout method;

good first deposit bonus;

all tables are anonymous;

We provide Ignition Converter and Ignition Card Catcher for free for our players.
Poker Room Review
Special offers
Registration Instructions
Player Reviews
Ignition Poker (IP) is the leading poker room of the PaiWangLuo (Bodog) network. At the moment, the network is in the top 5 in terms of the number of online poker players.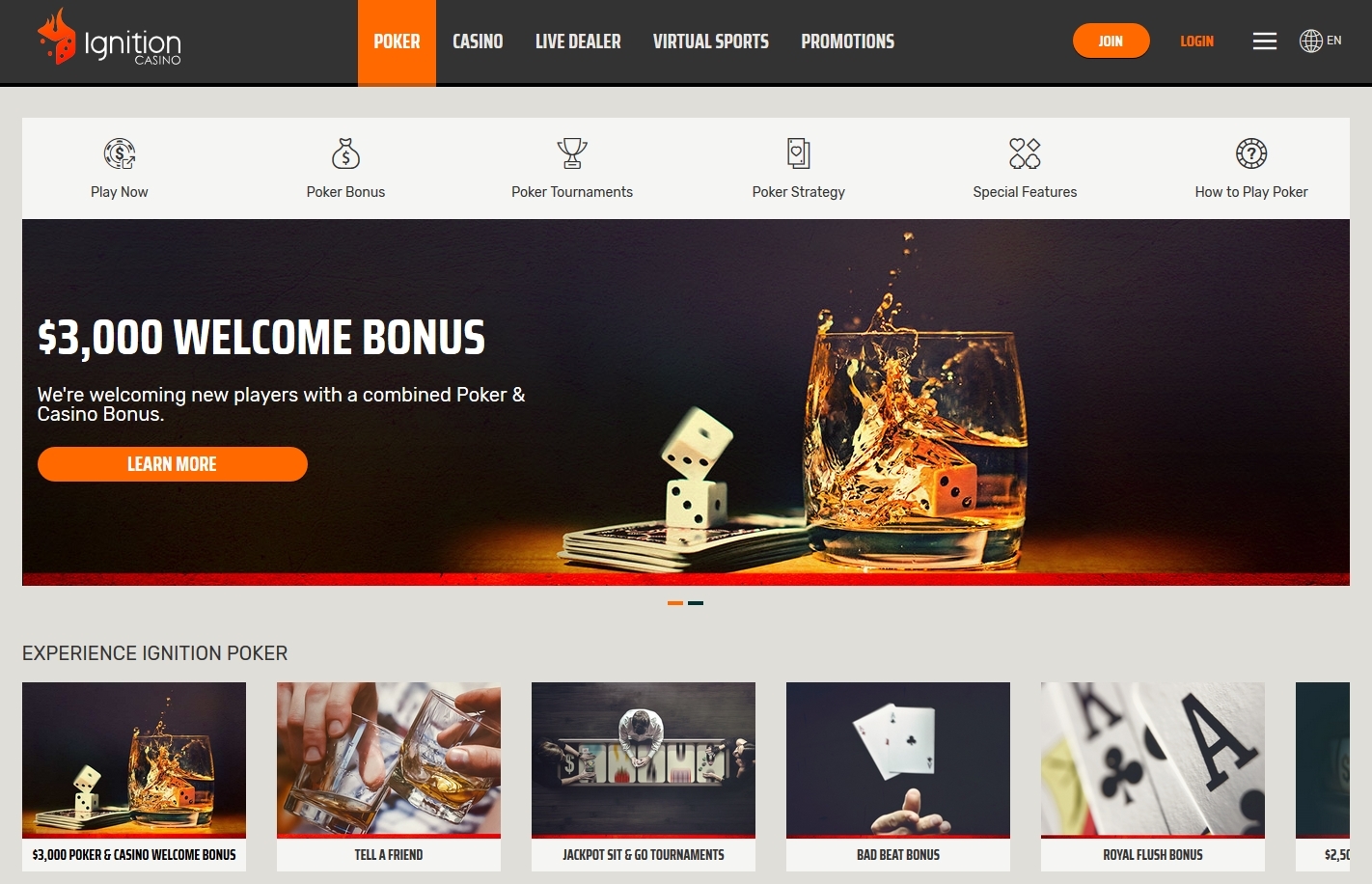 Characteristic features of the room:
The largest poker site that accepts US players;
Among the payment methods, cryptocurrencies are available and their use is encouraged;
First deposit bonus of 100% up to $ 1,000;
Anonymous tables protect weak players from regulars.
Ignition Poker was created relatively recently - in 2016. Previously, Ignition Casino existed and successfully operated for several years. However, if you look at the Bodog poker network as a whole, then its first room (Bovada) was founded on the wave of the Moneymaker effect in 2004. The forced withdrawal of all major networks and poker rooms in 2011 from the United States had a positive impact on the number of players in Bodog. In February 2017, Bodog was acquired by Chinese investors and the network was renamed "PaiWangLuo".
Ignition Poker traffic
In terms of traffic, Ignition Poker is ranked 5th among all poker rooms and networks. At peak times, you can meet up to 3000 players at the tables. All rooms of the PaiWangLuo network have a common pool of players. The main currency of IP is US dollars.
Most of the players are concentrated at No Limit Holdem cash tables. The lowest limit is NL5 and the highest is NL2000. The main feature of the poker at Ignition Poker is that all cash tables are anonymous. During the game, you only have access to the player's number at the table and the number of his chips. No nicknames.
This is done to fight against professional players and make it harder to find amateurs. Another step in this direction is that seating at tables from the client's lobby is not carried out at any table, as in most other rooms. Here you can choose only the limit and you will be put on the first vacant seat.
PLO is somewhat inferior in popularity to NL Holdem, but it is quite in demand. The game is played at tables from NL5 to NL2000. This is true for both regular Omaha and PLO Hi/Low.
From time to time, the players also gathers at the Fixed Limit Holdem tables. Available limits: from 0.05\0.10 to 30\60.

Ignition Poker also has its own kind of fast poker called "Zone Poker". In the client's lobby, the limits are NL5-NL500. The most popular limits are NL5, NL10, NL25 and NL200. At peak times there are up to 75 connections.
Spin & Go tournaments are referred to here as "Jackpot Sit & Go". The set of limits is quite original: $ 2, $ 7, $ 20, $ 60. The maximum multiplier is 1200, the minimum is 2. All money is taken by the winner of the tournament, except in cases with high multipliers. There, the prize fund is distributed among three participants of the coveted Spin & Go.
Among the other Sit&Go formats, let's single out Double or Nothing. They are named "Double Ups" in the lobby. There is also the original Triple Ups format. An interesting feature of the PaiWangLuo network is that unlike most other poker rooms and networks, where the emphasis is on hyper-turbo, it is played more with regular tournaments or turbo. This is due to the same concern for amateurs.

Ignition Poker's tournament schedule is designed for mid-stakes players. Every week MTT raffles off $ 2,000,000 here. Major tournament series are held periodically. The largest regular tournament is the $ 150,000 guaranteed Sunday event with $ 20,000 for first place.
Rake at Ignition Poker
The rake at Ignition Poker is 5%. It is charged according to the Weight Contributed system.
Fixed Limit


NL and PL games


Heads up
| | | |
| --- | --- | --- |
| Limit | Rake in the bank | Cap |
| Any | $ 0,01 for every $ 0.20 in the pot | $ 1,00 |


Poker trackers and the Ignition Poker client
Poker trackers at Ignition Poker work, but with serious caveats. The key one is related to the anonymity of the tables. Opponents' nicknames are not displayed at the tables - only numbers and stack sizes are available to you. For this reason, PokerTracker 4 or Holdem Manager 3 directly simply cannot work. To fully use them, you will need additional software:
Ignition Card Catcher - provides the ability to display HUD with statistics in real time, but does not work at the Zone Poker tables;
Ignition Converter - allows you to convert hand history to readable for PT4 \ HM3 for further analysis in offline mode.
We provide both Ignition Card Catcher and Ignition Converter for our players for free.
Some poker software can work directly with Ignition Poker. First of all, it is an alternative poker tracker DriveHUD. When using it, no additional converters are needed. Holdem Indicator and the macOS version - iHoldem Indicator are also running on the PaiWangLuo network.
The Ignition Poker client itself is performing at a satisfactory level. Not the best rating due to the slightly outdated appearance of the application and intermittent problems when starting the poker room. The most common of these is an empty lobby. Sometimes crashes occur directly during the game and nothing can be done about it - just wait. However, similar situations are typical for gambling industry leaders.
In the options you can choose a table theme, a 4-color deck, a cards and cardbacks. In addition, you can turn off animation and sound effects, and set preflop and postflop betting profiles. The "favorite place" function is also provided.
If you are a fan of mobile gaming, then Ignition Poker offers you versions for Android and iOS. Your unwillingness to download and install software on your smartphone or tablet will also not be an obstacle - there is also a game in the browser in the IP. You need to go to the official Ignition Poker website and log into your account. You can even multitable up to 4 tables from your browser!
Ignition Poker promotions and bonuses
Ignition Poker offers several attractive bonuses and promotions for different groups of players:
1. First deposit bonus of 100% up to $ 1,000. If you make a deposit using cryptocurrency, then the bonus is even higher - 150% and up to $ 1,500, respectively.

To activate it, you just need to go to the client of the poker room and choose from the options offered. You have 30 days to wager. The bonus is credited unevenly; to receive it in full, you need to score 10,000 points.
2. Bad Beat Bonus. The bitterness of defeat will sweeten the bonus up to $ 1,000.
3. Royal Flush Bonus. For the highest poker hand, Ignition rewards 50 big blinds. The amount of the reward is limited to $ 200. To receive a bonus, you must fulfill two conditions:
You won the hand;
Cards were dealt to at least 3 players.
4. Bitcoin-Exclusive Membership. For cryptocurrency deposits, you will be provided with exclusive reload bonuses, tournament tickets and free spins at Ignition online casino. These kinds of rewards await you every week.
Loyalty program Ignition Poker
The Ignition Poker loyalty program consists of 8 levels:

| | | |
| --- | --- | --- |
| Level | Requirements | Exchange Rate |
| Steel | 0 | 2,500=1$ |
| Chrome | 2,500 | 2,250=1$ |
| Bronze | 10,000 | 2,000=1$ |
| Silver | 60,000 | 1,750=1$ |
| Gold | 150,000 | 1,500=1$ |
| Platinum | 500,000 | 1,250=1$ |
| Titanium | 1,000,000 | 1,000=1$ |
| Diamond | 2,500,000 | 1,000=1$ |

Points are referred to here as "miles". Don't be intimidated by the cosmic numbers in the claims column - miles at Ignition Poker are awarded for life. The level is assigned to you for life. For some levels, there are also special rewards in the form of exclusive freerolls.
| | |
| --- | --- |
| Game Type | Points (miles) |
| Cash game | 15 per 1$ rake |
| Tournament | 15 per 1$ rake |
| Jackpot Sit&Go | 1,5 per dollar buy-in |
Deposits and Cashouts
Cryptocurrencies are highly respected at Ignition Poker as a payment method. The options available for the deposit may differ depending on the player's country of residence. In its most general form, the list of available options looks like this:
Visa;
MasterCard;
American Express;
Bitcoin;
Bitcoin Cash;
Voucher.
There are significantly fewer options for withdrawing funds:
Bitcoin;
Check by Courier;
Bitcoin Cash;
Voucher.
Please note that deposits from plastic cards will cost you more due to additional fees. They range from 5.5% for Visa and MasterCard to 9.9% for American Express. That is why you should pay close attention to cryptocurrencies, because there all transactions are carried out without commission.
Conclusions. Pros and cons
Ignition Poker is an interesting place to play poker. The number of strong players here is significantly less due to the difficulties with selections, access from some countries and the work of poker trackers. And vice versa - there are proportionally more recreational amateurs on IP. The poker room encourages the use of cryptocurrencies and a good loyalty program with lifelong statuses.
Pros:
First deposit bonus of 100% up to $ 1,000;
Accepts US players;
Ignition Converter and Card Catcher are free for our players;
Cryptocurrency is one of the main methods for deposits and cashouts.
Cons:
Does not accept Skrill, NETELLER, ecoPayz;
A small number of attractive promotions;
The software is inferior to the leading poker rooms.
Special offers: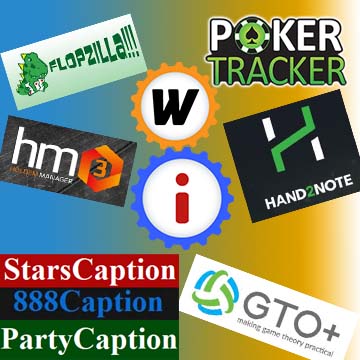 Free software for our players
All players who have registered at Ignition Poker via our link are eligible to receive any free software from our store. Contact us for more details.
Registration Instructions
FAQ:
Is there datamining handhistory for Ignition Poker?
No, there isn't mining for Ignition Poker.
What is Ignition Poker technical support email address?
Main email - service@ignitioncasino.eu
Is it allowed to use software (Holdem Manager 2-3, Poker Tracker 4, Hand2Note, etc.) on Ignition Poker?
The use of poker trackers is not prohibited. But you will need additional programs - Ignition Converter and Ignition Card Catcher. Or use the poker tracker DriveHUD.
Players from which countries can play Ignition poker?
Ignition poker is not able to accept new players from the following US states and territories: Delaware, Maryland, Nevada, and New Jersey.
Number of players in the peak:
3000
Docs
ID, address confirmation
Contact:
email - service@ignitioncasino.eu
Mail:
service@ignitioncasino.eu