Brasil Poker Live

Bonus:
no bonus presented
Rakeback:
по договоренности
Brasil Poker Live is the largest poker room in the South American Aconcagua network. A characteristic feature of this network is that it is closed to players outside of South America. Thanks to this factor, the level of the opponents' play is at a fairly high level, which allows good players to count on a high profit. The game in Brasil Poker Live, like in other poker rooms of the Aconcagua network, is played with conditional chips. A similar measure was introduced because of the variegated variety of national currencies, which are difficult to bring to a common denominator.

Poker trackers are allowed on Brasil Poker Live. But for them to work correctly, you need the Aconcagua Converter.
Key Features
Closed pool of players;

It is allowed to use poker trackers, but a converter is required;

We provide Aconcagua converter for our players for free;

Low competition in MTT;

The game is played with special chips;

There is Chinese poker (Pineapple).
Poker Room Review
Special offers
Registration Instructions
Player Reviews
Brasil Poker Live is the largest poker room in the Aconcagua network. Aconcagua Poker Network operates in South America. This fact gives rise to the main feature of the game here, which is a fairly comfortable and profitable pool. Local players are in a kind of vacuum, which automatically entails an appropriate (low) level of poker skill.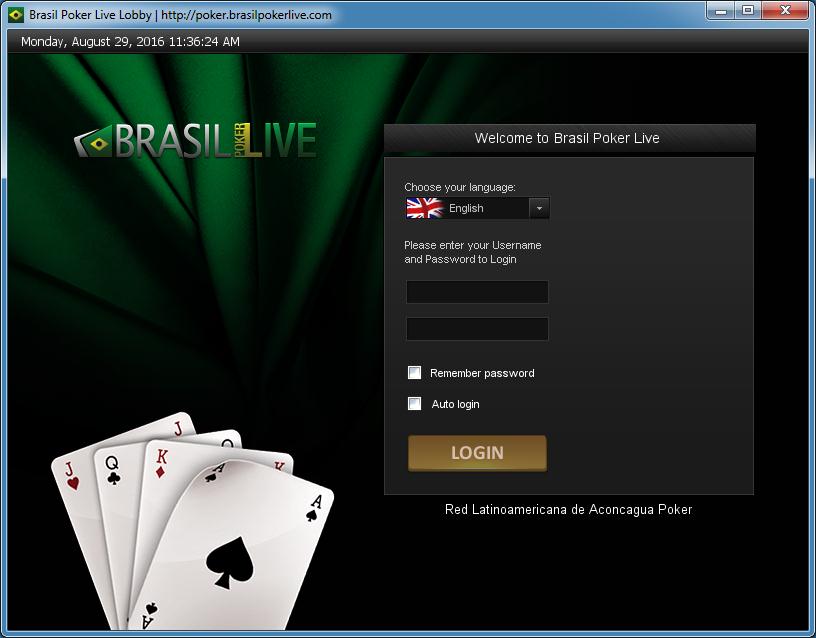 The Aconcagua Poker Network was launched in 2009. As befits a reservation, only representatives of Colombia, Mexico, Uruguay, Brazil, Peru, Bolivia, Argentina, and Chile are allowed to play in it. Each state has its own separate poker room: Chili Poker Live, Brasil Poker Live, Peru Poker Live, Mexico Poker Live and so on. In 2019, Aconcagua Poker was licensed in Spain and a separate poker client for Spanish players was launched. In the near future, it is expected to unite the players and create a single pool.
All poker play in the poker rooms of the network is conducted not with the traditional dollars, but in local currency. For the convenience of all players, it is converted into conditional chips. This greatly simplifies the game, because otherwise you would have to seat the players depending on the table currency, and each of the countries allowed in Aconcagua Poker has its own national currency.
Trackers are allowed on the poker network, but a special converter is required. We provide Aconcagua Converter for free to all our players.
Brasil Poker Live traffic
At peak times in Brasil Poker Live, up to 1,300 players can be found at the tables. Due to the difference in time zones, the peak occurs at night in European time.
Most of the traffic comes from No Limit Holdem. The most in demand are tables of low and medium limits, but there are not too many games at high limits. There are PLO tables. Such a rare guest for modern poker as HU Cash is also represented on the network. And not only for NL Holdem, but also for Omaha.
Another important feature of local cash tables is that you can sit at a table with 20 big blinds. A good option for those who like to play with a short stack.
MTT and Sit & Go are not in great demand among South American players. Tournaments at Brasil Poker Live are a local phenomenon: all activity is focused on micro-stakes, and guarantees in tournaments look modest even against the backdrop of small poker networks like iPoker or Unibet. A pleasant bonus is the low level of opponents and their overall small number, which allows you to really count on frequent successes even in such a dispersive discipline.
Rake size
The average rake at cash tables is about 5% of the pot. We remind you that for the convenience of calculations during the game, currencies have been converted into a special equivalent called «chips». Here's more information on the commission during the game:
No Limit Holdem и Pot Limit Holdem
| | | |
| --- | --- | --- |
| Limit | Rake | Cap |
| Up to NL100 | 0.05 for 1 | 3 |
| Up to NL1000 | 0.05 for 1 | 4 |
| From NL1000 and higher | 0.05 for 1 | 5 |
Fixed Limit Holdem
| | | |
| --- | --- | --- |
| Limit | Rake | Cap |
| Up to 1\2 | 0.05 for 1 | 1 |
| 2\4 and 5\10 | 0.50 for 10 | 2 |
| 10\20 and higher | 0.50 for 20 | 3 |


For tournament poker, the rake is not uniform. At micro-limits, most often you can see values ​​of 10%, at medium and high limits, the rake decreases.
Brasil Poker Live client and poker trackers
Brasil Poker's software is up to par. Many other popular poker rooms like PokerDom, Europebet and PokerMatch also work on similar software. In the settings, you can change the theme, adjust the bet profiles and buy-in size when seated at the table, disable sound effects and animations. A four-color deck is also available.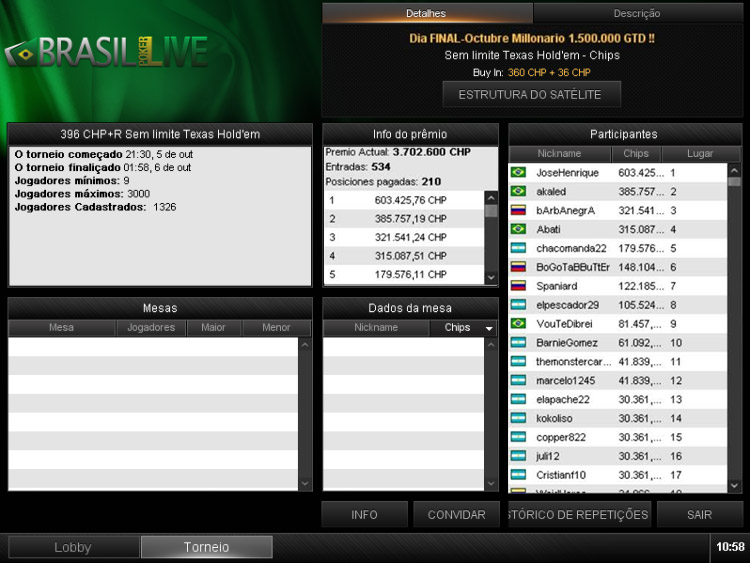 Poker trackers are allowed here. For proper work of PokerTracker 4/Holdem Manager 3, you need to get Aconcagua Converter. We provide it for free for all our players. But Hand2Note works on Brasil Poker Live without additional tools.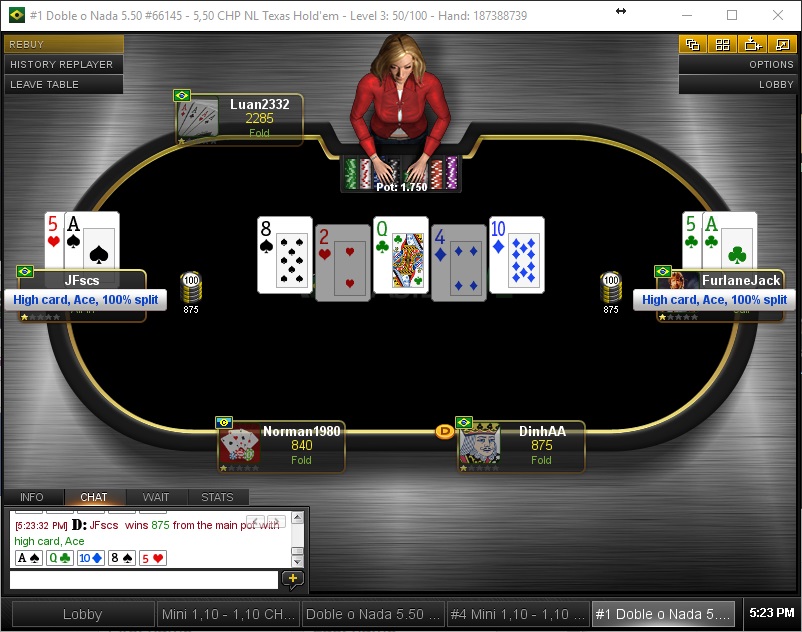 The poker room has a mobile application for Android.
Brasil Poker bonuses and promotions
Brasil Poker promotions and bonuses are quite modest in nature. Most of them are just big MTT announcements. There are only a few daily freerolls with small prizes and Bad Beat Jackpot.
Loyalty program and rakeback
There is no clear and structured loyalty program at Brasil Poker. No statuses and multipliers for large volumes of the game. But you can still get decent rakeback here. Please contact our representative for details.
Deposits and Cashouts
Due to the peculiarities of regional access and restrictions, we recommend using only Skrill, NETELLER, ecoPayz e-wallets for deposits and cashouts.
Conclusions. Pros and cons.
Brasil Poker is an interesting solution for exotic lovers. Despite some peculiarities during registration and the locality of Aconcagua Poker Network, the game also has obvious advantages. The poker style of local players is significantly different from the way we are used to thinking, therefore, it will enrich you with new experiences. Once again, you will be able to adapt to new conditions and thus hone your playing skills even more. And, most importantly, your profit can significantly exceed the income from playing in familiar and boring places!
Pros:
Soft players pool, minimum of strong regulars;
Low rake;
You can use poker software here;
You will be able to consistently claim victories in MTT;
There is Chinese poker, also known as "Pineapple".
Minuses:
A converter is required for the correct work of PokerTracker 4, Holdem Manager 3;
Peak game times are late night European time.
Special offers: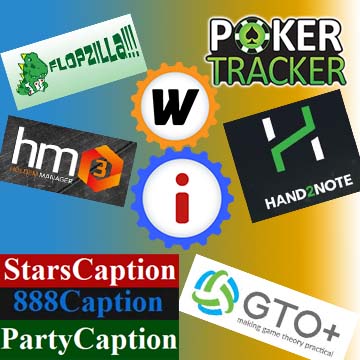 Free software for our players
All players who have registered at Brasil Poker Live via our link are eligible to receive any software from our store for free. Contact us for more details.
Registration Instructions
FAQ:
Is there datamining handhistory for Brasil Poker Live?
No, there isn't mining for Brasil Poker Live.
What is Brasil Poker Live technical support email address?
Main email - support@brasilpokerlive.com, for technical issues - manager@brasilpokerlive.com
Is it allowed to use software (Holdem Manager 2-3, Poker Tracker 4, Hand2Note, etc.) on Brasil Poker Live?
The use of poker trackers is not prohibited. However, for the statistical software and HUD to work correctly, you need the Aconcagua converter.
Players from which countries can play Brasil Poker Live?
Brasil Poker Live allows direct registration only from Brazil. But with our help, you can also get an account and play poker there.
Number of players in the peak:
1300
Rakeback:
по договоренности
Docs
ID, address confirmation
Contact:
for general questions - support@brasilpokerlive.com, for technical issues - manager@brasilpokerlive.com
Mail:
support@brasilpokerlive.com