BetOnline

The deal is unavailable at the moment!
BetOnline is a poker room from the Chico Poker Network.
By the number of players, the network is in the top 15 online poker.
One of its key features is that US players are allowed to register here.
Worthy of a mention and a good welcome bonus for new players, as well as regular promotions with reloads.
BetOnline regularly hosts rake races for cash players with good prize money.
Poker trackers are allowed, but a converter must be used for them to work correctly.
Key Features
Regular rake races for cash and Sit & Go, available even for micro-stakes players through separate leaderboards;
A good first deposit bonus of 100% from $ 1000;
Free datamining and Chico Converter for our players;
Prize pool of $1,000,000 at Windfall;
Bad Beat Jackpot and Boost Bad Beat Jackpot;
A large number of Full Ring tables (9-max);
You can make deposits and cashouts using crypto currencies.
Poker Room Review
Special offers
Registration Instructions
Player Reviews
BetOnline is a part of Chico Poker Network. A characteristic feature of the network is the opportunity to meet players from the United States. Since Black Friday, when the US government blocked several of the largest poker sites in the United States at once, only Chico Poker and Winning Poker Network have access to the American market. So BetOnline is a kind of time capsule with very good conditions for the game and the most pleasant opponents.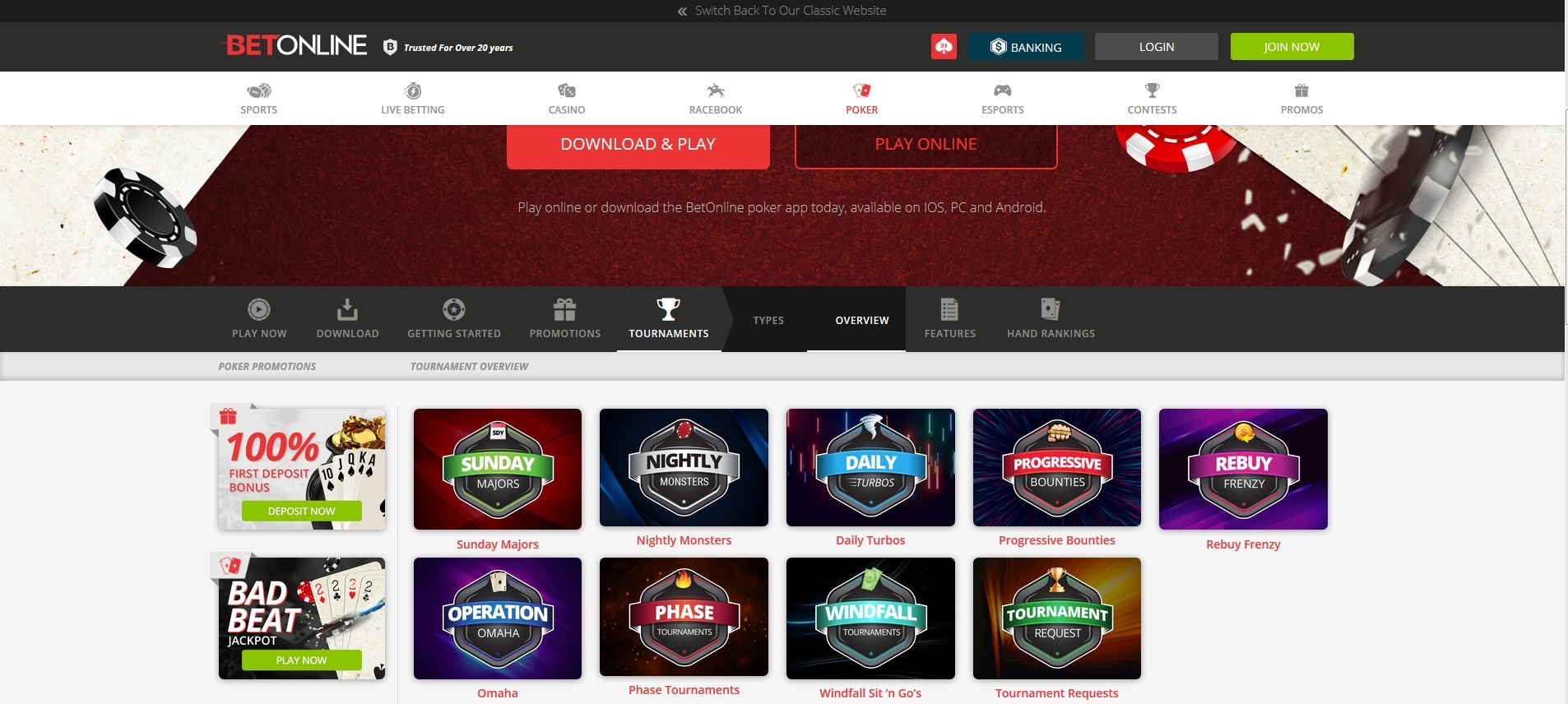 BetOnline was founded on a bookmaker's office. Its origins date back to 1991. A key event in the modern history of the poker room was the change of ownership in 2011. A little later, BetOnline becomes part of a new network - Chico Poker, formed on the basis of the crisis-ridden «Action Poker Network». Due to this, representatives of the United States continued to play Chico Poker, and BetOnline traffic increased significantly due to the connection with TigerGaming and SportBetting.
At the moment BetOnline and the entire Chico Poker Network are an alternative place for those players who are genuinely tired of the tough play at the leading poker rooms like PokerStars, Partypoker or 888Poker. Cash players are at the center of poker room politics. Therefore, the most interesting and profitable promotions are intended for them.
Slightly less attractive conditions are created for MTT players: tournament series with big prize money are really rare guests here. However, the weakness of the players pool and the small clearing more than compensate for this: you can have a higher ROI here than in more promoted places.
BetOnline traffic
At peak times, around 3000 players gather at the BetOnline tables. The ethnic composition is quite variegated, but a significant part of them are Americans, Canadians, as well as representatives of other countries of Central and South America.
A significant part of them are collected at cash tables. NL Holdem plays the leading role. Tables from NL10 to NL1000 are available in the client's lobby. An interesting feature of the Chico Poker network is that the lower limit here is NL10. Accordingly, often you will come across at the tables with opponents who are poorly versed even in the rules of poker, which will have a beneficial effect on your income.
Another curious fact is the popularity of full tables on BetOnline. Here we can talk almost about a 1:1 ratio between 9-max to 6-max tables. It is a rare occurrence in modern online poker where some popular poker rooms and networks have completely abandoned Full Ring.
At peak times, traffic by limits is distributed as follows:
| | |
| --- | --- |
| Limit | Number of tables |
| NL10 | 20-25 |
| NL25 | 15 |
| NL50 | 15 |
| NL100 | 30 |
| NL200 | 20 |
| NL500 | 5 |
| NL1000 | 5 |
Please note that the volume of play at NL100 is higher than at the limits below, which is rare. This anomaly can be explained by the Bad Beat Jackpot, which is available from NL100. These tables are marked with a star sign in the lobby.

Omaha. Omaha is played on BetOnline, but not as active as Hold'em. But you have a choice between Pot-Limit Omaha and Omaha Hi/Low. List by limits:
| | |
| --- | --- |
| Limit | Number of tables |
| NL10 | 7 |
| NL25 | 6 |
| NL50 | 3 |
| NL100 | 5 |
| NL200 | 4 |
| NL500 | 3 |
| NL1000 | 2 |
The counterpart to fast poker in Chico Poker is called "Boost". The main traffic is concentrated on NL10. At peak times, up to 70 connections. The rest of the limits (NL25-NL500) are used sporadically, even despite the separate Boost Bad Bead Jackpot.
There is also short deck poker on BetOnline. Texas 6+ is represented by 4 limits: NL10, NL25, NL50, NL200. No, we also don't know where NL100 went missing.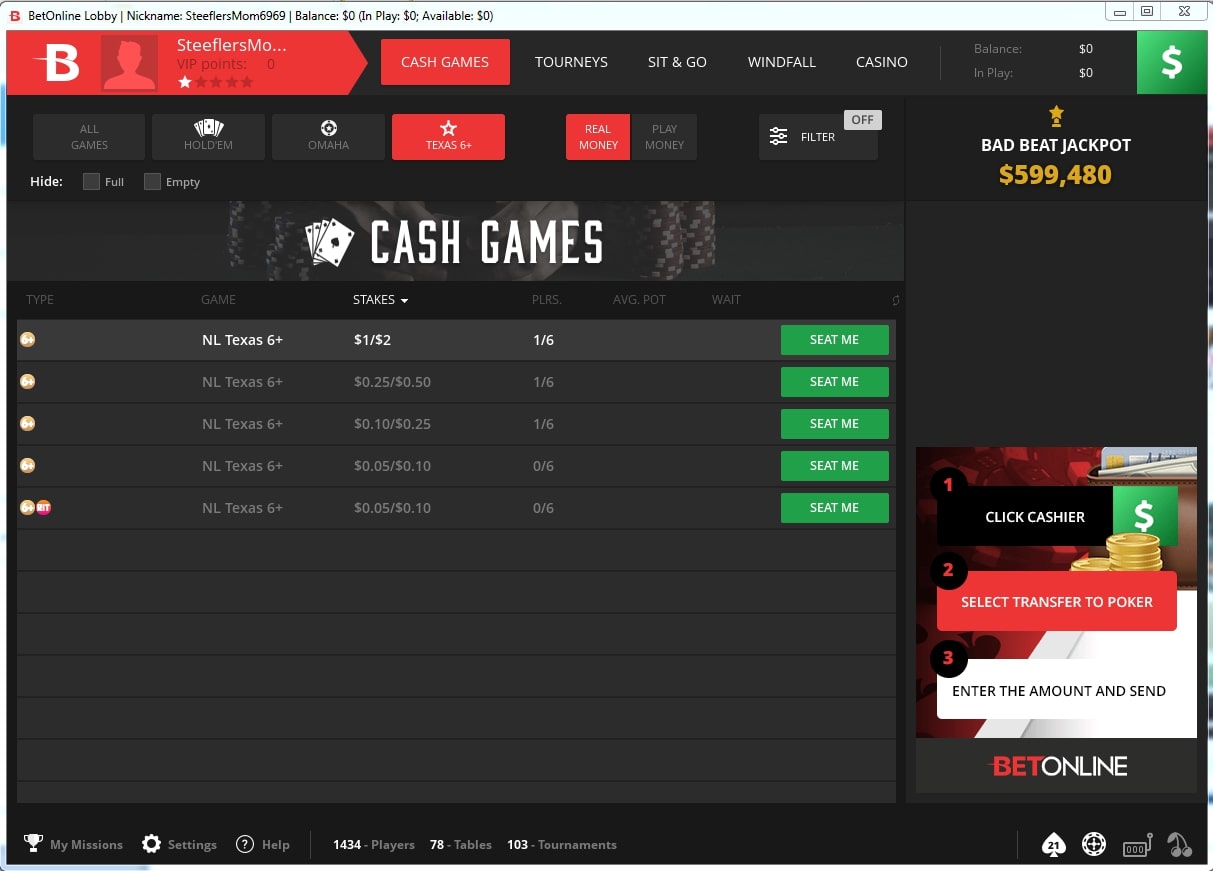 Spin&Go tournaments at Chico Poker are called "Windfall". The tab with these tournaments is almost the most diverse among all poker rooms: here you can find traditional NL Holdem, PLO, and PLO Hi/Low, and a variant with the eloquent name "Flips".
The most attractive option is Windfall for $10 NL Holdem with a prize pool of $1,000,000. Only at this limit the rake is 5%. For playing at all other limits, you will be charged a 7% commission.
Among the other Sit&Go options, the most popular formats are Double or Nothing and Heads Up (most often hyper-turbo). The rake at micro-limits is a bit high, starting from medium it becomes more pleasant.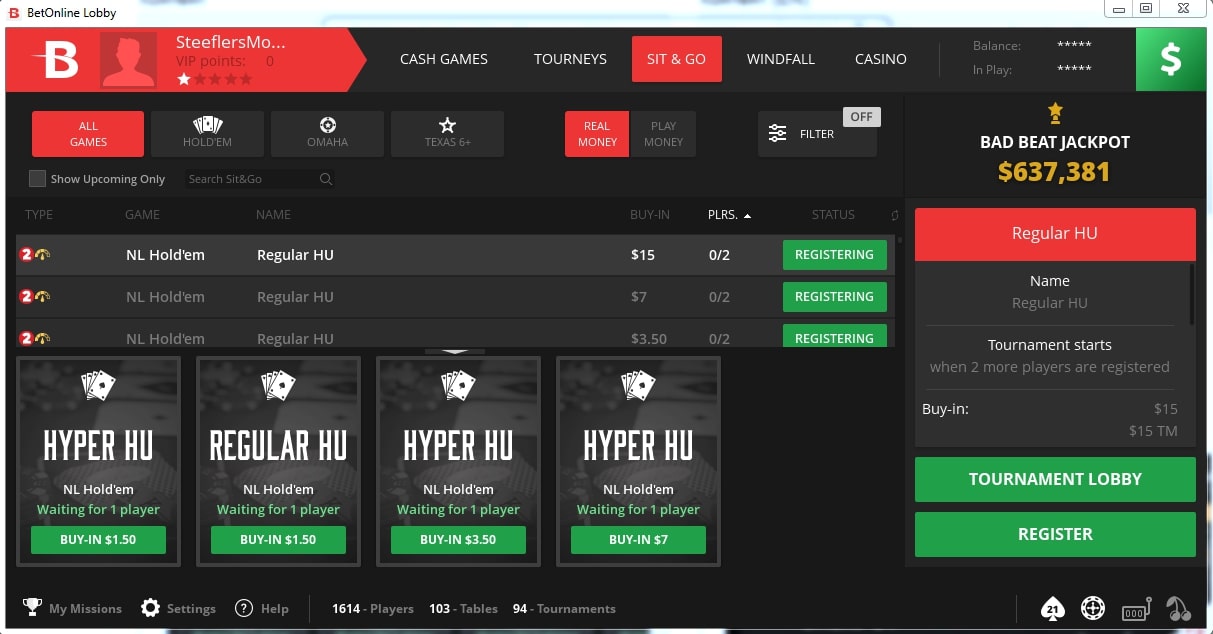 Unlike many other poker rooms and networks, Chico Poker focuses on cash players. A direct consequence of this was the transition to the background of MTT. Millions of dollars guaranteed tournaments or major tournament series on BetOnline are unlikely to be found. The tournament segment here is aimed at low and medium stakes players. The main Sunday tournament is usually held with a guarantee of $ 100,000 - $ 150,000. However, in such a situation, you can also see the positive - your competitors are fewer and they are weaker.
Rake in cash games and tournaments
The average rake in cash games on BetOnline is a little over 5.5%. The advantageous difference from competitors is that the cap rake at almost any limit does not exceed $3. More accurate numbers depending on the limit:
NL и Pot-Limit
Pot Limit и No Limit от 0,05/0,10$ до 1/2$
| | | |
| --- | --- | --- |
| Number of Players | Rake in the bank | Cap |
| 2 | 0,01$ for every 0,18$ in the bank | 1$ |
| 3 | 0,01$ for every 0,18$ in the bank | 2$ |
| 4 | 0,01$ for every 0,18$ in the bank | 2,5$ |
| 5+ | 0,01$ for every 0,18$ in the bank | 3$ |
Pot Limit и No Limit - от 2/5$ до 5/10$
| | | |
| --- | --- | --- |
| Number of Players | Rake in the bank | Cap |
| 2 | 0,01$ for every 0,18$ in the bank | 1$ |
| 3 | 0,01$ for every 0,18$ in the bank | 2$ |
| 4 | 0,01$ for every 0,18$ in the bank | 3$ |
| 5+ | 0,01$ for every 0,18$ in the bank | 4$ |
Pot Limit и No Limit – 10/20$
| | | |
| --- | --- | --- |
| Number of Players | Rake in the bank | Cap |
| 2 | 0,01$ for every 0,18$ in the bank | 1$ |
| 3 | 0,01$ for every 0,18$ in the bank | 2$ |
| 4 | 0,01$ for every 0,18$ in the bank | 3$ |
| 5 | 0,01$ for every 0,18$ in the bank | 5$ |
For tournament poker, the rake is set at higher levels: at medium and high limits, you will pay a commission of 7% of the buy-in, but at micro-limits, you will have to pay all 10%.
Poker trackers and BetOnline client software
In recent years, many poker rooms and networks have taken a course towards a complete ban on the use of poker software while playing. The rationale is to create same conditions to all players and protect new players from the pros. To the delight of the latter, BetOnline and Chico Poker do not prohibit playing with poker trackers and HUDs. There is a small, but significant caveat here - you cannot use your PokerTracker 4/Holdem Manager 3/Hand2Note without special software - Chico Converter. The need for additional software is dictated by the unconventional format in which the hand history is saved. Without it, poker trackers simply won't import these hands.
There is good news here - we provide datamining and Chico Converter for free when registering at BetOnline using our link.
The BetOnline poker client itself leaves a pleasant impression. Its color scheme is composed of red, black and green. Navigating the tabs with disciplines and types of poker is intuitive. The filters are also made at a high level and will be understandable even for beginners.
The main settings of the tables are opened after going to the "Settings" tab (the lower left corner of the lobby is the gear icon) and choosing "More options" there.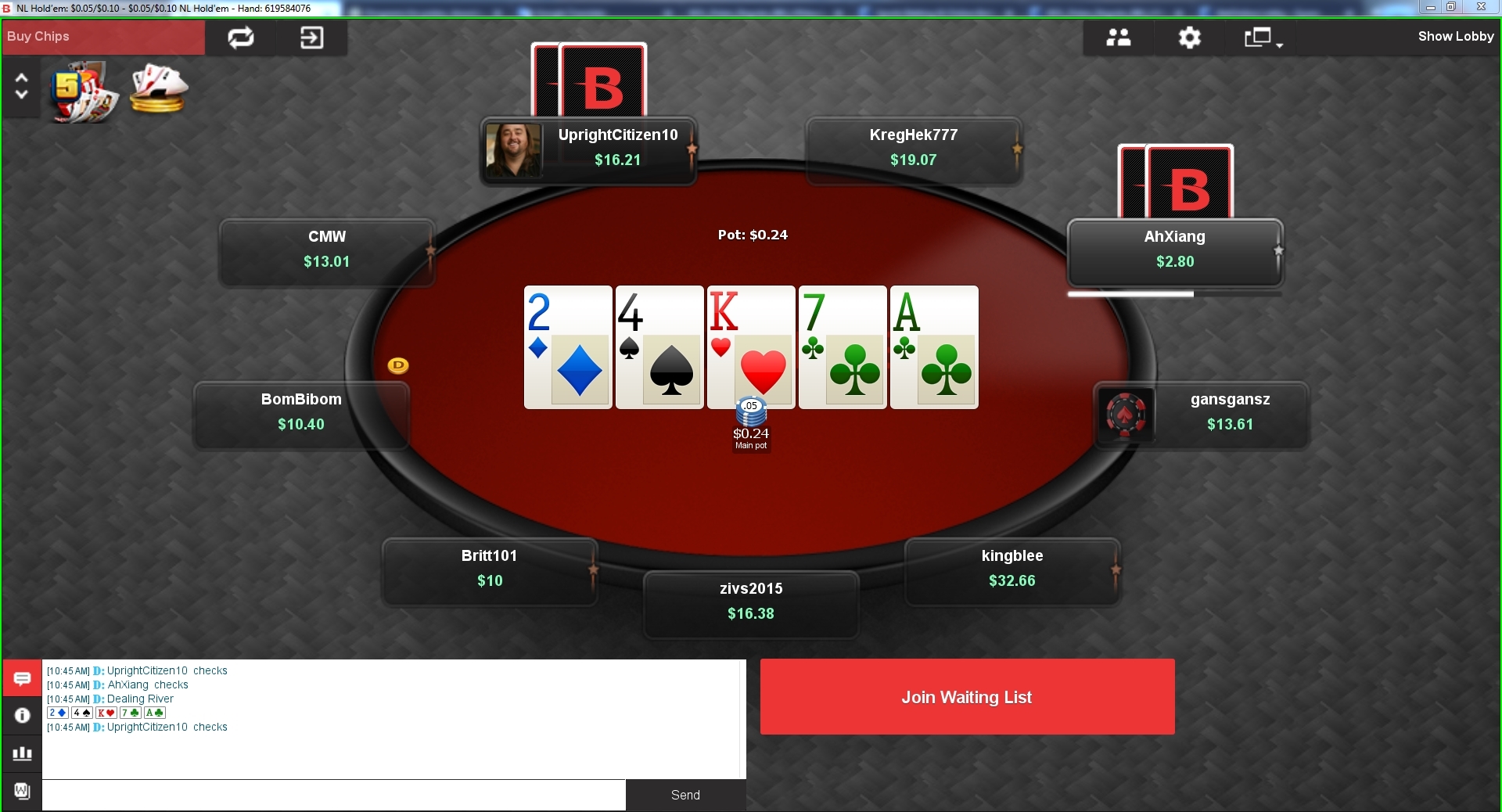 Here is a list of key options that you can change to your own needs:
Switch on a deck of 4 colors;
Change the theme of the tables and the card back;
Disable chat notifications;
Assign "hot keys";
Set preflop and postflop betting profiles for cash games and tournaments;
Remove animation, avatars, sound signals;
Define the parameters of automatic rebuy and rebuy.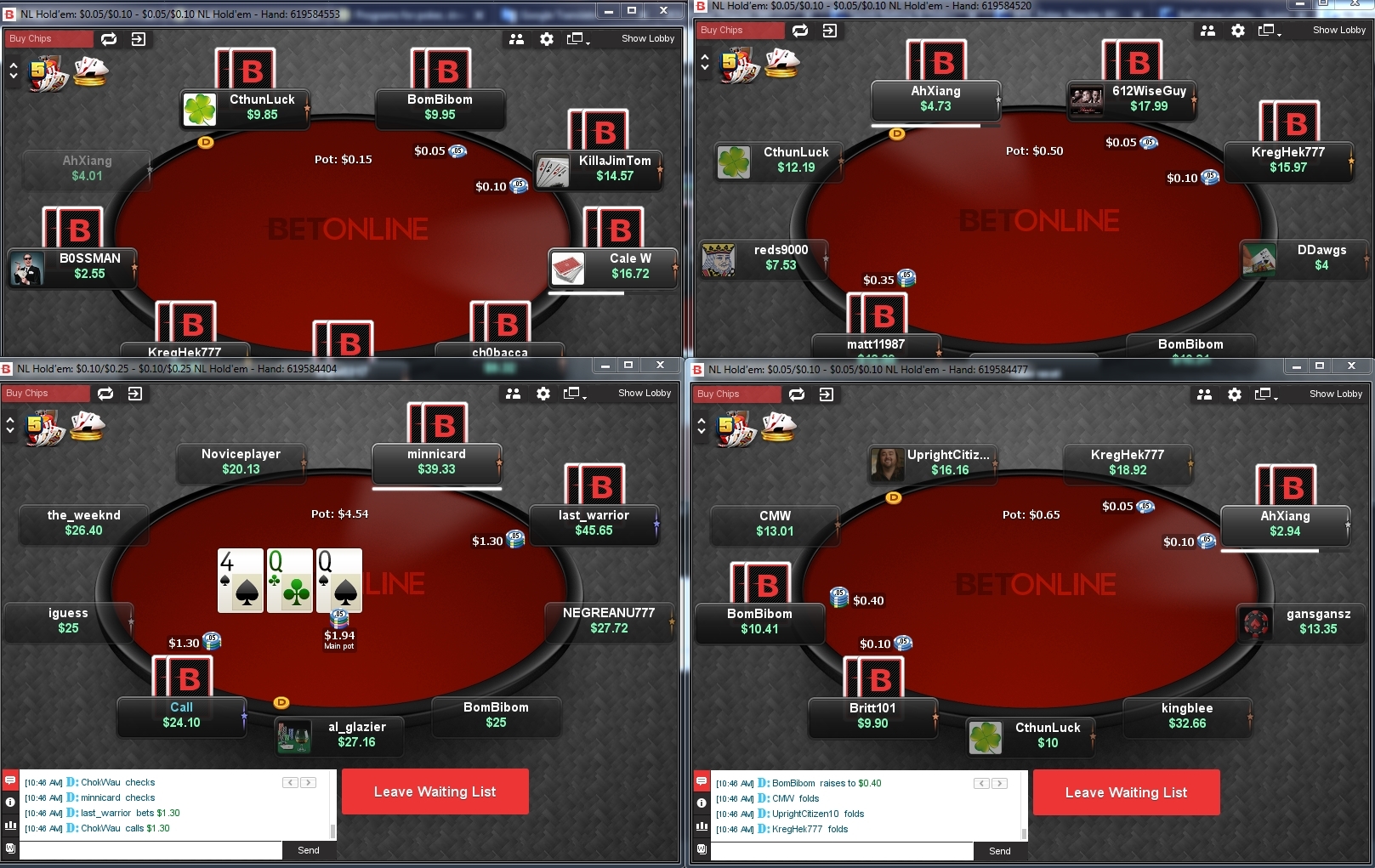 BetOnline has a mobile poker app for iOS and Android. If you do not want to download the poker client to your computer or smartphone, you can always play from your browser. To do this, you just need to go to the official website of the room and log into your account.
BetOnline bonuses and promotions
Chico Poker is a network focused on cash players. Therefore, the greatest attention is paid to them here. However, it cannot be argued that Spin&Go and Sit&Go players do not get anything at all - there are tempting offers for them too. The most important ones are:
1. Bonus 100% on the first deposit.

For a deposit of $ 50 or more with the NEWBOL code, you are entitled to a 100% bonus up to $ 1,000. The bonus will be credited to you in parts, $ 5 each (for $ 50 rake). You need to keep within 30 days, otherwise the rest will burn out.
2. Weekly cash rake race. The prize pool for the promotion is a tempting $ 40,000.

A very nice feature of the race - each limit has its own leaderboard and its own prize money. This sets Chico Poker apart from other poker rooms and networks, where prizes are often awarded exclusively for high stakes players. There is a separate $10,000 rake race for Omaha players.
3. Weekly Sit&Go Race. The local leaderboard has a prize pool of $5,000. Tournament players from $1.5 to $100 can count on their share of the prize pool, because each limit has its own rating.
4. Bad Beat Jackpot. If you lose with quads of twos or better at the cash table, you can count on a substantial portion of the jackpot. It should be remembered that you have to lose at the jackpot table (marked in the BetOnline lobby with an star sign). This year (2020) a record payout of $198,944 went to a player under the nickname "RandomFruit". There is also a separate Boost Bad Bead Jackpot. The conditions for obtaining it are the same, but the prize pool is formed only at the expense of Boost tables.
5. Windfall for $1,000,000.

In the local version of Spin & Go for $10, under the right circumstances, you can claim a million dollar prize pool. The winner will receive $500,000.
Loyalty program and rakeback
The main way to convert rake into extra profit on BetOnline is through rake races. This is an indirect path. But there is also an additional opportunity to exchange local loyalty points for money. This option is available only once a month. Points can be exchanged for cash by requesting technical support. VIP levels look like this:
| | |
| --- | --- |
| Level | Points |
| Silver | 25,000 |
| Gold | 50,000 |
| Platinum | 75,000 |
| Elite | 150,000 |
There is another indirect option for converting points into money: registering in MTT and Sit & Go tournaments for points and successfully performing in them. The road is much more winding, but this is the way.
Deposits and Cashouts
You will be able to make a deposit at BetOnline using the following options:
Bitcoin;
Ethereum;
Litecoin;
Ripple;
Bitcoin Cash;
Moneygram;
Wire Transfer;
EcoPayz;
Skrill (including Skrill 1-Tap);
NETELLER;
Moneta by NETELLER;
Ria.
Unlike PokerStars and Partypoker, Chico Poker Network keeps pace with the times and is very supportive of cryptocurrency funding.
You can withdraw money from your account in the following ways:
Bitcoin;
Ethereum;
Litecoin;
BitcoinCash;
Ripple;
NETELLER;
Skrill;
ecoPayz;
Wire Transfer.
Traditionally, deposits are faster (instant) than cashouts (up to 5 business days). Withdrawals using cryptocurrency are processed within 24 hours. In most cases, both depositing and withdrawing funds are carried out without commission fees.
There is a cashout limit - no more than $25,000 per transaction.
Conclusions. Pros and cons.
BetOnline is a good choice for cash game and Spin&Go players. Regular rake races and reload bonuses make it possible to more than compensate for not the most generous loyalty program. For MTT players, the choice is not the most obvious, but a small field and not too virtuoso opponents will allow you to benefit.
Pros:
The room is available in almost all countries of the world, including the USA;
Excellent rake races for cash players;
Many Full Ring tables;
First deposit bonus of 100% up to $1000;
It is allowed to use poker trackers;
You can make cashouts and deposits using cryptocurrencies;
We provide a free converter and datamining, if you register using our link.
Minuses:
A converter is required to use poker trackers and HUD;
A short period for wagering the first deposit bonus (only 30 days);
Not the most impressive rakeback;
Small guarantees even in major MTT.
Special offers: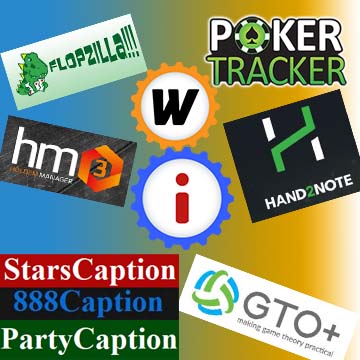 Free software for our players
All players who have registered at Betonline via our link are eligible to receive any software from our store for free. Contact us for more details.
Registration Instructions
FAQ:
Is there datamining handhistory for BetOnline?
Yes, there is mining for BetOnline. We provide it for free to all our players. Together with the free Chico Converter.
What is the bonus code to receive your first deposit bonus at BetOnline?
Make your first deposit of $ 50 or more and enter your bonus code NEWBOL.
What is BetOnline technical support email address?
BetOnline Technical Support Email: cspoker@BetOnline.ag
Is it allowed to use software (Holdem Manager 2-3, Poker Tracker 4, Hand2Note, etc.) on BetOnline?
The use of poker trackers is not prohibited. But for them to work correctly, you need Chico Converter. For our players, we provide it for free, along with mining.
Players from which countries can play BetOnline?
BetOnline currently restricts play only from the following jurisdictions: Afghanistan, Australia,Central African Republic,Cote Divoire, Cuba, Democratic Republic of Congo, Eritrea, France, French Guiana, French Polynesia, French Souther Territories, Guinea, Guinea-Bissau, Iran, Iraq, Lebanon, Liberia, Libyan Arab Jamahiriya, Mali, Malta, Myanmar (Burma), North Korea (Republic of), Panama, Sierra Leone, Slovenia, Somalia, Sudan, Syrian Arab Republic, United Kingdom, Yemen, Zimbabwe
Number of players in the peak:
3000
Docs
ID, address confirmation
Contact:
e-mail - cspoker@BetOnline.ag, online chat on the official website, Phone 1-888-426-3661
Mail:
cspoker@BetOnline.ag