Bet365 Poker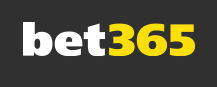 Bet365 Poker is a unique poker room of the iPoker Network. Its special status comes from its own poker tables. They are outside the general pool of the iPoker network and are not available in other poker rooms. In the clients lobby, they are marked in yellow and the word "Premium".

The differences between Bet365 and other rooms in the network do not end there. It hosts its own promotions and has its own store where you can exchange points for tickets, bonuses and cash. Freerolls are also held for holders of the corresponding statuses.

When playing at Bet365 Poker, you are allowed to use poker trackers and iPoker Tools.
Key Features
separate pool of cash players at Premium tables;

first deposit bonus of € 365;

additional MTT tournaments with progressive knockout;

the unique Premium League promotion;

the special loyalty program that allows you to independently choose your reward;

poker trackers are allowed;

our players get iPoker Tools and datamining as a gift.
Poker Room Review
Special offers
Registration Instructions
Player Reviews
Bet365 Poker is a part of the iPoker Network. Organized on the basis of one of the most popular bookmakers in the world. Bet365 itself was founded in 2000 in the UK. The poker business was launched in 2004.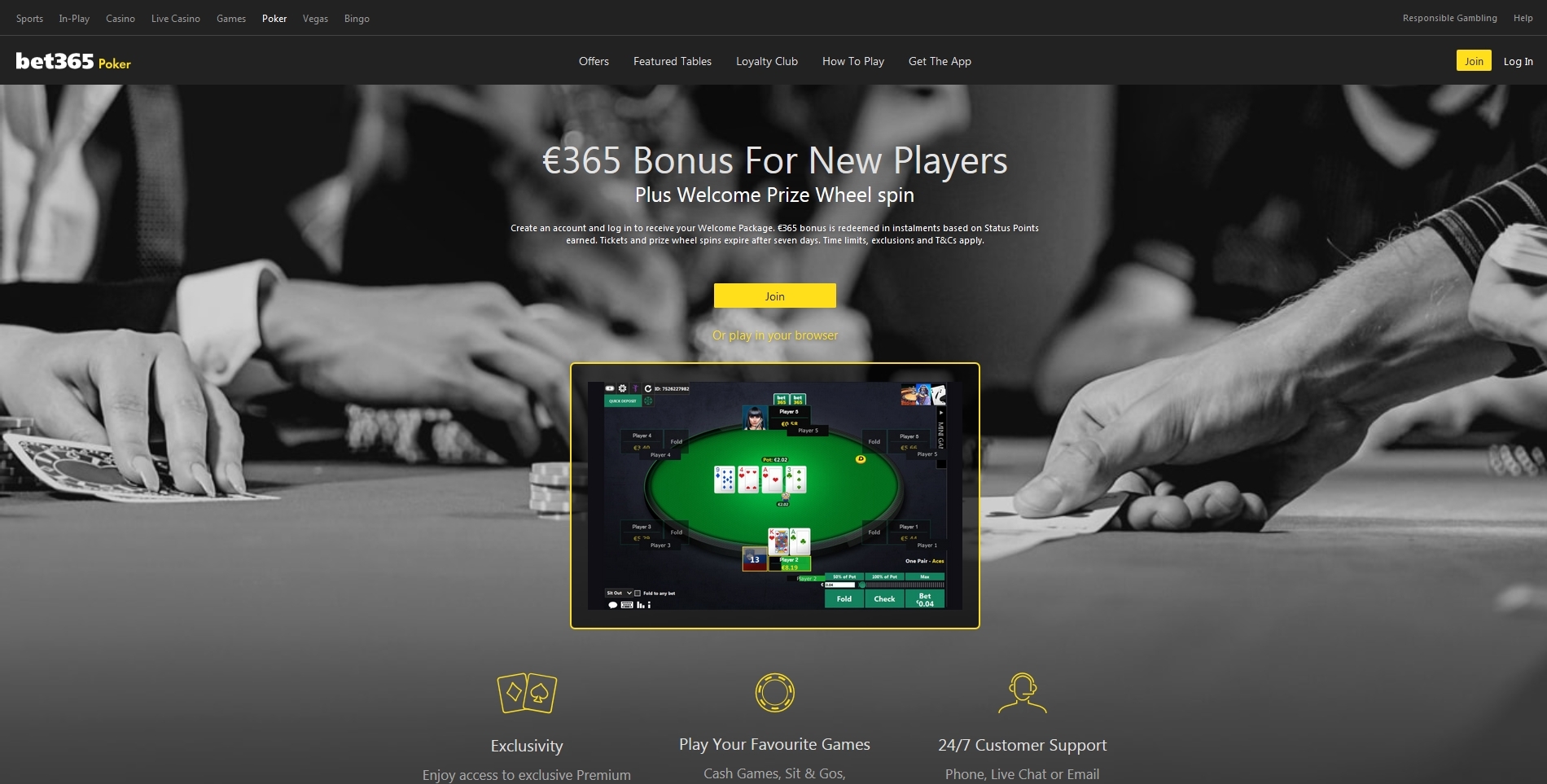 Top reasons to choose Bet365 Poker as a place to play poker:
Due to the close connection with sports betting and online casinos, there are always enough weak opponents at the tables;
It is allowed to use poker trackers and other software here;
Decent rakeback;
Unique promotions that differ from other poker rooms on the iPoker Network.
Bet365 Poker traffic
Bet365 Poker and the iPoker network share the same traffic. However, there is also a peculiarity here: Bet365 has a separate pool of players that is not available to other poker rooms of the network. It is centered around the Premium tables, painted yellow in the client lobby.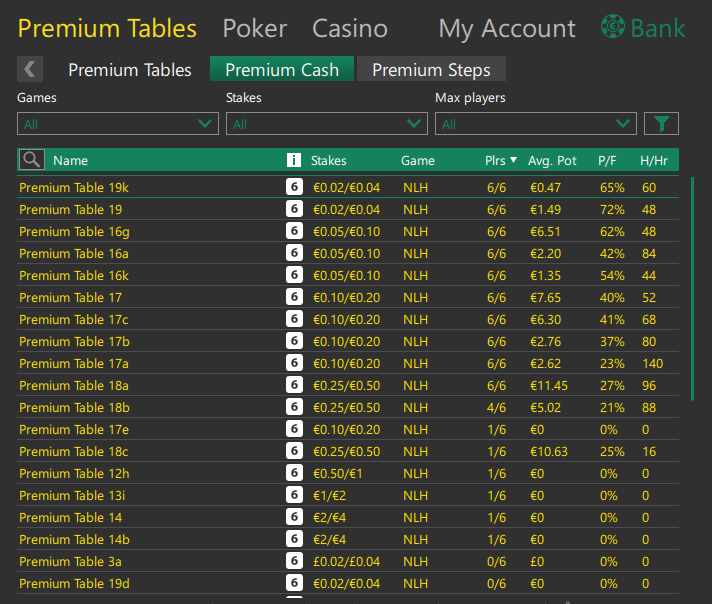 That is, other things being equal, the number of tables at Bet365 Poker will significantly exceed the other rooms of the iPoker Network. In terms of the number of players, the network balances on the edge of the top 10 online poker. At peak times, up to 5,000 players gather at the tables. The game is played in the room in euros and pounds sterling.
Most of the players' attention is focused on No Limit Holdem. The minimum limit is NL2, the maximum is NL1000. In the client's lobby tables 6-max, 9-max and HU are presented. In most cases, the game is played only at Short Handed tables.
Omaha is inferior in popularity to NL Holdem, but it has its supporters. Moreover, there are 4 varieties of this discipline in the Bet365 Poker lobby:
Pot Limit Omaha (PLO);
PLO Hi \ Low;
Fixed Limit Omaha;
Fixed Limit Omaha Hi \ Low.
Fast poker is referred to here as "Speed". There are only NL5 and NL10. During the hottest hours, there are up to 70 connections at the tables.
6+ Holdem (short deck poker) is available for NL4, NL10, NL20, NL50, NL100.
Spin & Go tournaments are located in the "Twister" tab. There are 7 limits in the lobby:
1 €;
2 €;
5 €;
10 €;
20 €;
50 €;
100 €.
You can learn more about the probabilities and multipliers (multipliers) for Spin & Go on the iPoker Network using the table:

| Multiplier | Probability |
| --- | --- |
| 1000 | 2 in 100 000 games |
| 50 | 50 in 100 000 games |
| 8 | 4000 in 100 000 games |
| 5 | 9 544 in 100 000 games |
| 3 | 22 002 in 100 000 games |
| 2 | 64 412 in 100 000 games |

Another kinds of Sit & Go tournaments are not very popular. HU SNGs and Double or Nothing tournaments fill up the fastest here.
Bet365 Poker's tournament schedule will appeal to low and mid-stakes players. But for high rollers in the lobby, it will be problematic to find something suitable: neither large tournament series, nor millions of Sundays are expected. The largest guarantee for a regular tournament is € 30,000. But the competition is significantly lower than in leading poker rooms like PokerStars or Partypoker.
Rake at Bet365 Poker
The average rake at Bet365 Poker is 5%. If a hand ended preflop and no community cards were laid out on the board, then the commission is not charged from the bank. The main feature of the iPoker Network rake calculation is its own special system called "Source Based Rake".
Its key difference from the usual approaches to calculating rake lies in different values ​​for different categories of players. To protect weaker players from multitablers, the rake size for the latter has been increased. At the same time, their rakeback figure will be less than that of recreational players.
Comprehensive information about rake size and caps in the table:
NL and PL games
Pot Limit and No Limit – from € 0,01 / € 0,02 to € 0,02 / € 0,05
| | | |
| --- | --- | --- |
| Number of players | Rake in the bank | Cap |
| 2-10 | € 0,01 for every € 0.15 in the bank | € 0,50 |
Pot Limit and No Limit - € 0,05 / € 0,10
| | | |
| --- | --- | --- |
| Number of players | Rake in the bank | Cap |
| 2 | € 0,01 for every € 0.15 in the bank | € 1,00 |
| 3-10 | € 0,01 for every € 0.15 in the bank | € 2,00 |
Pot Limit and No Limit - € 0,10 / € 0,20
| | | |
| --- | --- | --- |
| Number of players | Rake in the bank | Cap |
| 2 | € 0,01 for every € 0.20 in the bank | € 1,00 |
| 3-10 | € 0,01 for every € 0.20 in the bank | € 2,00 |
Pot Limit and No Limit - € 0,25 / € 0,50
| | | |
| --- | --- | --- |
| Number of players | Rake in the bank | Cap |
| 2 | € 0,01 for every € 0.20 in the bank | € 1,00 |
| 3-10 | € 0,01 for every € 0.20 in the bank | € 3,00 |
Pot Limit and No Limit – from € 0,50 / € 1,00 to € 5,00 / € 10,00
| | | |
| --- | --- | --- |
| Number of players | Rake in the bank | Cap |
| 2 | € 0,01 for every € 0.20 in the bank | € 1,00 |
| 3-10 | € 0,01 for every € 0.20 in the bank | € 4.00 |

For tournaments, the rake value differs depending on their format, however, on average, it is at the level of 9-10% of the buy-in amount.
Poker trackers and Bet365 Poker client
Poker Network iPoker Network is loyal to the use of poker trackers and supporting software. Bet365 Poker is no exception - feel free to use your Holdem Manager 3, Hand2Note or Poker Tracker 4. You don't need any converters to play. We provide our players with iPoker Tools and datamining for free.
The Bet365 Poker client meets all the modern requirements of the poker industry. The transfer of stacks to the big blinds, the "favorite place" function, betting profiles - all this is in the settings. There are also useful options for multitabling. Among them:
4-colored deck;
setting the theme and background of the poker table;
disabling sound effects, animations and avatars of other players.
The poker room also has a mobile application. If you want to play at Bet365 Poker from your smartphone, the iOS and Android apps are at your service. The official website also has the ability to play poker directly from the browser! All you need to do is go to the Bet365 website and log into your account.
Bet365 Poker Promotions & Bonuses
The set of promotions and the Bet365 Poker welcome bonus are slightly different from the rest of the iPoker Network poker rooms:
1. Bonus for the first deposit of 365 €. A minimum deposit of $ 10 is enough to activate it.

You do not need to enter a promo code. The bonus is paid according to a slightly confusing scheme:
the first two parts of 2.5 € will get you for 25 and 50 status points (SP);
24 subsequent parts are credited to the account for every 100 SP;
The remainder of the bonus is provided at 2.5 € for 250 SP.
For 1 € rake you get 10 status points. You have 60 days to clear the entire bonus.
In addition to the welcome bonus, you will be given 5 more tickets to the € 100 Bronze Loyalty tournaments.
2. Premium League. A combination of daily challenges and a prediction competition.

For successful execution and developed intuition, you are given a spin. The maximum prize here is 1000 €. A prerequisite is that you must register using the missions window to participate in the promotion.
Bet365 Poker loyalty program
The loyalty program at Bet365 Poker is very different from the rest of the iPoker Network poker rooms. It is more complex and varied. The main differences are:
Freerolls for status holders. Three tournament options - for bronze, for silver and for gold + statuses;
Shop where you can choose the type of reward. Available - Tournament Tickets, Twister, Bonus Euros, Cash Game Tickets. Upon reaching the last two levels, you can receive money directly as a reward.
There are 5 levels in the local loyalty program in total:

| | |
| --- | --- |
| Level | Requirements |
| Bronze | All players start here |
| Silver | 30 SP |
| Gold | 200 SP |
| Platinum | 800 SP |
| Diamond | 15,000 SP |

To reach all levels except Diamond, you must collect the required points within a calendar month. You have a quarter to obtain the highest status.
Deposits and Cashouts
The methods available for depositing at Bet365 Poker depend on your country of residence. In a generalized form, the following deposit options are available to you:
Visa;
MasterCard;
Click to Pay;
PayPal;
Paysafe;
Bank Wire;
Cheque.
And this is how the options for cashouts look:
Visa;
MasterCard;
PayPal;
Bank Wire;
Cheque.
E-wallets from Skrill and NETELLER have recently become unavailable on Bet365. Now the fastest way to withdraw your funds is PayPal. The expected transaction time is 24 hours. But in terms of limits, the most profitable way to fund your account is by check. With it, you can deposit up to $ 80,000.
Conclusions. Pros and cons
Bet365 Poker takes a special place among the poker rooms of the iPoker Network. A separate pool of players, not available to anyone else, as well as their unique promotions, set Bet365 apart from the general background.
Pros:
Bonus for the first deposit of 365 €;
Reward store, where you can exchange points for benefits;
There are no such strict restrictions on multitabling as on PokerStars\888Poker;
iPoker Tools and datamining as a gift for our players.
Cons:
There are no major tournament series;
The welcome bonus is difficult to wager in its entirety due to progressive requirements;
Skrill, NETELLER and cryptocurrencies are not listed as payment methods.
Special offers: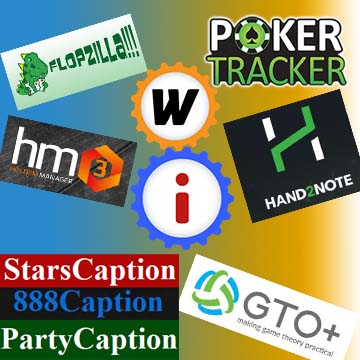 Free software for our players
All players who have registered at Bet365 Poker via our link are eligible to receive any free software from our store. Contact us for more details.
Registration Instructions
FAQ:
Is there datamining handhistory for Bet365 Poker?
Yes. Players registered from us can receive datamining for free. Contact our support for details. In addition, you can
buy handhistory for Bet365 Poker
in our shop.
Is it allowed to use software (Holdem Manager 2-3, PokerTracker 4, Hand2Note, etc.) on Bet365 Poker?
Yes, all these programs, as well as the others, which do not give direct instructions for action at the playing tables, are allowed at Bet365 Poker
Players from which countries can play Bet365 Poker?
Prohibited countries:
Afghanistan, American Samoa, Angola, Belgium, Burundi, Cambodia, Chad, Congo Republic, Democratic Republic of Congo, Eritrea, France, French Guyana, Guadeloupe, Guinea-Bissau, Guam, Haiti, Hong Kong, Iran, Iraq, Israel, Libya, Martinique, Monaco, Myanmar, Netherlands, North Korea, Philippines, Poland, Portugal, Puerto Rico, Romania, Singapore, Somalia, South Africa, Sudan, Syria, Tajikistan, Turkey, Turkmenistan, USA, US Virgin Islands, Uzbekistan, Venezuela, Yemen, Zimbabwe
How to verify account at Bet365 Poker?
To verify, just send to Bet365 Poker support your ID|driving license photos and a bank statement or utility bills with address confirmation
What is the bonus code to receive your first deposit bonus at Bet365 Poker?
To activate a bonus on your first deposit, a code is not required. Just make a deposit and the bonus will be applied automatically.
Number of players in the peak:
5000
Docs
ID, address confirmation
Contact:
email - support-eng@customerservices365.com, phone - +44 1782 684757
Mail:
support-eng@customerservices365.com